Ards clinch first Ulster Premier League title since 1964
Last updated on .From the section Hockey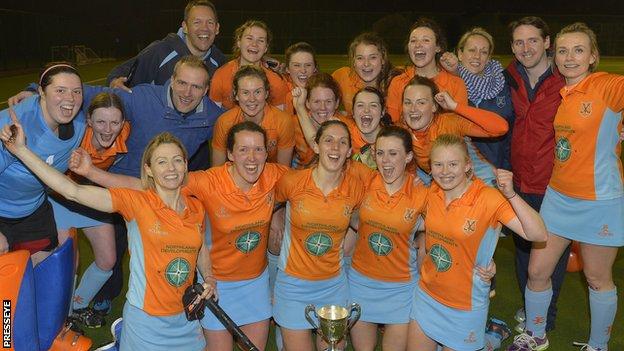 Ards have won the Ulster Premier League title for the first time in 51 years after Wednesday's decisive 6-2 win over Belfast Harlequins at Regent House.
Former Ireland player Emma Reid hit a hat-trick for Ards who have completed a league and Ulster Shield double.
Ards, who narrowly missed out on the league last season, had gone into the match needing a draw to seal the title.
Amy Benson, Janice Vaughan and Rachel Barton also scored for Ards whose last top fight triumph came in 1964.
Ards had won the Ulster Shield on Boxing Day by beating Pegasus on penalty flicks after the final ended 3-3 after extra-time.
"Winning the league is something we have been striving towards for the last few years and now we have finally done it," said Ards captain Naomi Elliott.
"Now, we want to do better on the all-Ireland stage having had little success in the IHL or Irish Senior Cup in recent seasons, bar one appearance in a semi-final.
"Playing Leinster teams, in particular presents a different challenge from the ones we are used to in Ulster.
"The teams you play tend to be more physical and the umpiring can be a little different in its interpretation as well.
"You definitely improve your own game by playing the better teams from the south and we now want to progress and set about achieving more success in the national competitions."