World League 2: Ireland women beat Lithuania 2-0 in Dublin
Last updated on .From the section Hockey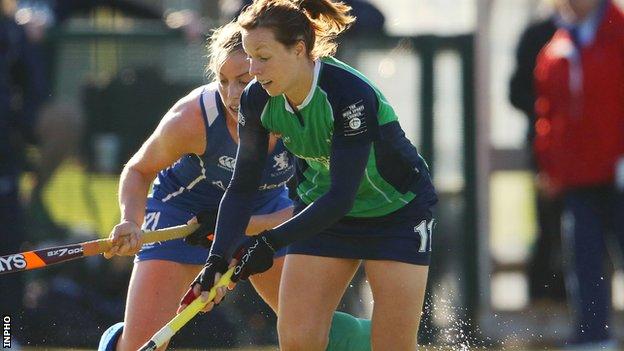 Ireland's women enhanced their Olympic qualification hopes with a 2-0 victory over Lithuania in Dublin on Thursday.
Two first-half goals from Nikki Evans and Megan Frazer put them through to a semi-final against Belarus on Saturday.
Ireland need to either win the semi-final or a third/fourth placed play-off to guarantee progress to the next qualification phase in World League 3.
Places for the 2016 Olympics in Rio will be up for grabs in World League 3 tournament.
Two first-half goals from set pieces killed off a low-key battle in Belfield on Thursday.
The home side eventually broke through in the 20th minute from their fifth corner, Cliodhna Sargent diverting play to the right post where Evans slid in for her second goal of the tournament.
Another penalty corner forged number two as Shirley McCay's sweep bounced off a defensive foot on the line. Frazer rolled home the second goal.
Lithuania did not have a shot on goal after that, while Ireland were thwarted by a jam-packed defence in the second half despite numerous attacks.
"Lithuania slowed the game up and we obliged a bit," said coach Darren Smith.
"We needed to try and get out of that hole and try and quicken things up, play the game with a bit more aggression. In terms of the result, 2-0 is great as is being in a semi-final."
Smith is expecting a more open game against Belarus, who beat Ukraine 5-1 to reach the last four.
"We played Belarus twice in 2013 and I think they have gotten better and better. They finished strong against Ukraine, have some dangerous forwards and good distributors from the back," he said.
Ireland: E Gray, C Sargent, E Smyth, N Evans, S McCay, M Frazer, A Connery, N Daly, H Matthews A O'Flanagan, G Pinder
Subs: N Carroll, C Watkins, L Colvin, K Mullan, K Dillon, A Meeke, A McFerran
Lithuania: V Vileikyte, E Kalinauskaite, U Chmeliauskaite, K Poskute, D Grigiene, S Grubliauskaite, J Juodyte, S Jakovlevaite, S Adomaviciute, R Zukaite, R Petrauskaite
Subs: I Kenstaviciute, A Garbataviciute, U Aucynaite, E Nomeikaite, E Malyseva, I Paulaviciute, O Maksimovic