Michelle Harvey makes return to Irish squad
Last updated on .From the section Hockey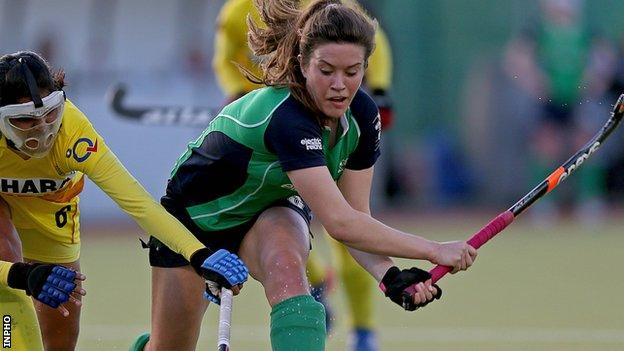 Michelle Harvey is back in the Ireland women's squad to face Italy next month after almost a year's absence.
The former Pegasus player, who now lines out for Belgian side Leuven, is named in the 19-strong squad for the three-Test series.
"Michelle has been in excellent form for her club Leuven," said Ireland coach Darren Smith.
"She deserves the opportunity to stake a claim on a position for World League 3 in June."
There is also a first call-up to the squad for Loreto's Hayley Mulcahy after impressing in training camps over the past year.
Ireland won World League 2 at Belfield earlier this month and have qualified for World League 3 in June in Valencia.
Some players have been rested following the tournament will others are playing in the EuroHockey Club Champions Cup this weekend.
Smith described Italy as a team with "skill and flair, which means that the matches will be quality to watch".
Ireland will host the Italians on 16, 18 and 19 April although venues and times have yet to be confirmed.
Ireland squad: Emily Beatty (UCD), Chloe Brown (Ards), Naomi Carroll (Catholic Institute), Lizzie Colvin (Loreto), Aine Connery (Hermes), Nicola Daly (Loreto), Kate Dillon (Railway Union), Stella Davis (Pembroke Wanderers), Deirdre Duke (UCD), Megan Frazer (Ulster Elks), Michelle Harvey (Leuven), Hannah Matthews (Loreto), Shirley McCay (Ulster Elks), Ayeisha McFerran (Pegasus), Ali Meeke (Loreto), Hayley Mulcahy (Loreto), Yvonne O'Byrne (Cork Harlequins), Cliodnha Sargent (Cork Harlequins), Emma Smyth (Railway Union).