Guernsey Hockey Club aim for deeper squad after EH Trophy loss
Last updated on .From the section Hockey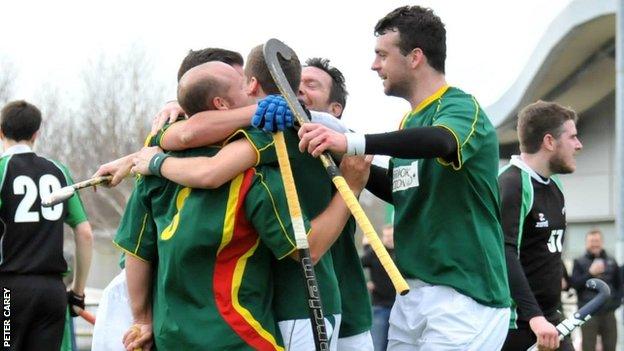 Guernsey Hockey Club's player-coach Andy Whalley says he wants to increase the depth of his squad following his side's defeat in the EH Trophy final.
Guernsey on sudden-death penalty flicks
"We had 16 or 18 players contesting for places this year," Whalley said.
"If we can get a squad of 20 or 22, I think that will put a bit more pressure on the existing players and hopefully raise everybody's game."
Guernsey's EH Trophy final appearances
2015:
Lost on sudden-death penalty flicks to Sheffield University Bankers after a 2-2 draw
2014:
Beat Banbury 4-2 on penalty flicks after a 3-3 draw
2013:
Lost 3-2 to Lewes
2012:
Lost 2-1 to Gateshead
2009:
Beat Henley 4-3
Guernsey have made the EH Trophy final in each of the last four years,
"The lads are very hungry to do this and have these sort of competitions again," Whalley told BBC Radio Guernsey.
"We're in a really incredibly strong place at the moment.
"Hopefully we can keep that momentum going into future years as the Trophy competition is a very important one for us."