Good replaces injured McCandless in Irish squad for Rio qualifiers
Last updated on .From the section Hockey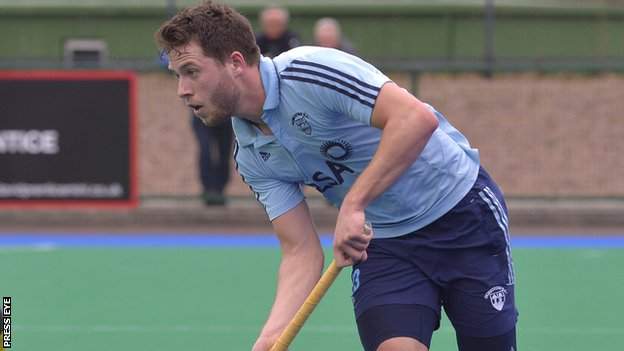 Kyle Good replaces injured Bruce McCandless in the Ireland squad for the final series of Olympic qualifiers in Belgium which starts later this month.
With Banbridge's McCandless ruled out by an ankle injury, Belgium-based Good is called up in the only change from the World League 2 campaign in April.
McCandless's club-mates Drew Carlisle, Stephen Dowds and Eugene Magee are in the squad.
Lisnagarvey duo Jonny Bell and Paul Gleghorne are also included.
Gleghorne is in line to face his brother Mark in Ireland's opener against Great Britain in Belgium on 23 June.
Mark Gleghorne is among three former Ireland internationals who have been named in the British squad for the World League 3 campaign, which is the final Olympic qualifiers.
The Ireland squad also includes four other Ulstermen, English-based duo Michael Watt and John Jackson plus Peter Caruth and Chris Cargo.
Former Annadale player Caruth is attached to Dublin club Monkstown with Cargo another Belgium-based squad member and Watt playing for English club Surbiton and Jackson now representing Reading.
The tournament runs from 20 June to 5 July and the Irish will take on Malaysia (25 June), China (26 June) and Belgium (28 June) following their opener against Britain.
Ireland need a top-three finish in the competition to be guaranteed a place in Rio although a top-six spot could eventually prove enough to book their Olympic passage.
"We are all proud of the individual work done by the players to get as conditioned as they are right now and we look forward to World League 3 in Antwerp," said Ireland coach Craig Fulton.
Ireland World League 3 squad
Jonny Bell (Lisnagarvey), Drew Carlisle (Banbridge), Peter Caruth (Monkstown), Chris Cargo (Racing), Mitch Darling (Three Rock Rovers), Stephen Dowds (Banbridge), David Fitzgerald (Monkstown), Paul Gleghorne (Lisnagarvey), Kyle Good (Dragons), Ronan Gormley (Krefeld), Conor Harte (Racing), David Harte (Kampong), John Jackson (Reading), Eugene Magee (Banbridge), Shane O'Donoghue (Dragons), Kirk Shimmins (UCD), Alan Sothern (Racing), Michael Watt (Surbiton).