World League 3: Irish beat Uruguay to make quarter-finals
Last updated on .From the section Hockey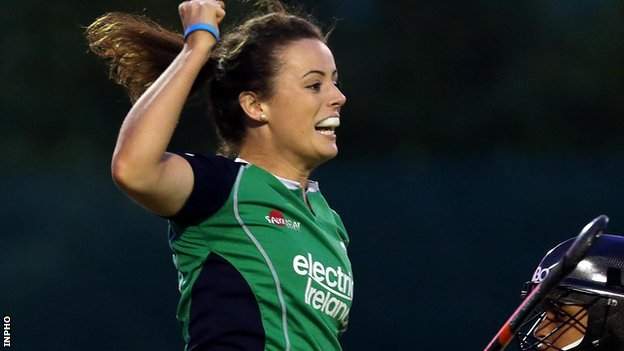 Aine Connery's late winner gave Ireland a 3-2 victory over Uruguay and a place in the World League 3 quarter-finals.
Anna O'Flanagan put Ireland ahead in the first half in Valencia before Nikki Evans doubled the advantage six minutes after the interval.
Janine Stanley pulled one back for the tournament's lowest ranked team and Manuela Vilar levelled on 44 minutes.
Ireland regained control and Connery netted from a penalty corner move five minutes from time to win it.
It means the the Irish are through to the quarter-finals with a group game to spare, against the USA on Tuesday.
That comes before playing their all-important quarter-final, which will effectively hold an Olympic berth for the winner.
Ireland were made to work hard for the victory and they did not have the same polish that marked their opening games against South Africa and Germany.
It was also an undisciplined display, with the Irish picking up four yellow cards and two green.
Match-winner Connery said it was "a tough game" but was delighted with how her side reacted in tough circumstances.
"With the amount of cards we got, it was disappointing from our point of view in terms of game management," she added.
"But we showed good character at the end and were very focussed in what we had to do. I'm delighted we got the three points.
"We're so excited with getting a quarter-final place. It was our aim when we started and we have achieved it and can start building towards it."
Ireland: E Gray, C Sargent, E Smyth, N Evans, K Mullan, S McCay, M Frazer, L Colvin, N Daly, H Matthews, A O'Flanagan
Subs: Y O'Byrne, G Pinder, A Connery, C Watkins, K Dillon, A Meeke, A McFerran