World League Semi-Final: Ireland 2-4 Malaysia
Last updated on .From the section Hockey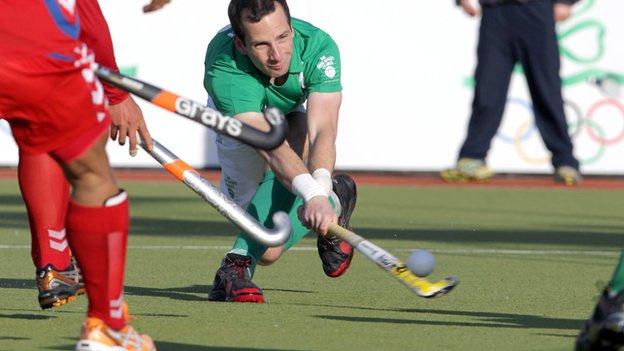 Ireland suffered a 4-2 defeat by Malaysia in their second World League Semi-Final pool game in Antwerp.
Peter Caruth deflected in Mitch Darling's shot to level after a Izwan Firdaus opener for Malaysia, who moved in front with Razie Rahim's strike.
Shane O'Donogue hit the bottom corner to make it 2-2 but second-half goals from Mutalib Sukri and Firdaus gave Malaysia a comfortable Pool B win.
Ireland started with a 2-2 draw against Great Britain on Tuesday.
Both sides created a few chances early in the game but Malaysia converted first from a penalty corner.
Ireland responded quickly, hitting the post before Mitch Darling's reverse stick shot was expertly deflected into the goal by Caruth.
Malaysia began the second quarter with Rahim's goal from another well worked penalty corner routine.
Ireland hit back again Shane O'Donoghue scored off an Irish penalty corner.
Malaysia earned a penalty corner and Sukri netted from the rebound after keeper David Harte saved.
Malaysia had a goal disallowed before Harte saved a penalty stroke from Rahim.
Firdaus flicked high into the net to seal the points for Malaysia six minutes from time.
Ireland are back in action on Friday, with China their opponents.
"A disappointing result but we played well for the majority of the match," said Ireland coach Craig Fulton.
"We've got to correct a few things and we're more than capable of doing that. We'll go back and do some video work, and we are looking forward to the match against China."
Ireland: Harte, Jackson, Gormley, Magee, Caruth, Shimmins, O'Donoghue, Darling, Good, Gleghorne, Harte.
Subs: Fitzgerald, Bell, Watt, Cargo, Sothern, Dowds, Carlisle.