Hockey: Derek Forsyth dismayed by budget cut for Scotland men

By Keir Murray
BBC Scotland
Last updated on .From the section Hockey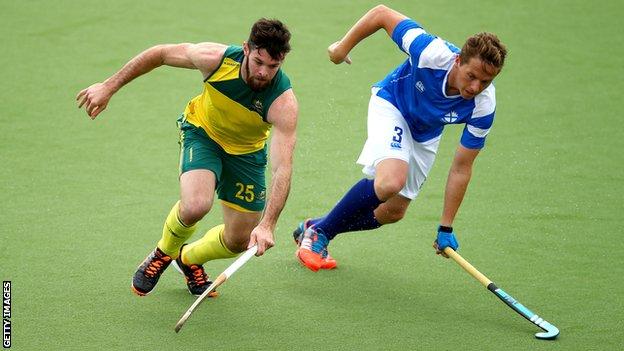 Scotland's sport agency, sportscotland, stands accused of making it harder for the country's men's hockey team to compete against the top nations.
Head coach Derek Forsyth feels that the 11% cut in funding for Scottish Hockey for 2015-19 is "ridiculous".
"They keep cutting our funding but then expect us to raise the bar - and they give us unrealistic targets," he said.
A sportscotland spokesperson said the investment focus for the men's game is on development, not the national team.
Scottish Hockey had its budget cut from £3.63m to £3.23m when sportscotland announced its funding programme last month for the four-year cycle from 2015.
Scotland men's Group A matches in EuroHockey Nations Championship 2, Prague
Sunday 19 July, Poland v Scotland
Monday 20 July, Scotland v Croatia
Wednesday 22 July, Scotland v Ukraine
Group B teams: Azerbaijan, Switzerland, Austria and Czech Republic
Top two teams in tournament win promotion to EuroHockey top tier
In a change to its funding provisos, Scottish Hockey can no longer determine how it divides that money between its men's and women's programmes.
Instead, such has been the progress made by Gordon Shepherd's women's team, the cash for the women's performance and development programmes has been ring-fenced by sportscotland.
And Forsyth, who became manager in January 2012 after being in charge of the Scotland Under-21s, claims his job with the men's team, who are ranked 27th in the world, is even more difficult now he faces an annual shortfall of £100,000.
"Our budget's been slashed, which I'm far from happy about," he told BBC Scotland at the team's base at Glasgow Green.
"I've no idea what sportscotland are up to. It's great to invest in winners all the time. How about helping someone become a winner? It's much more gratifying, I'd say.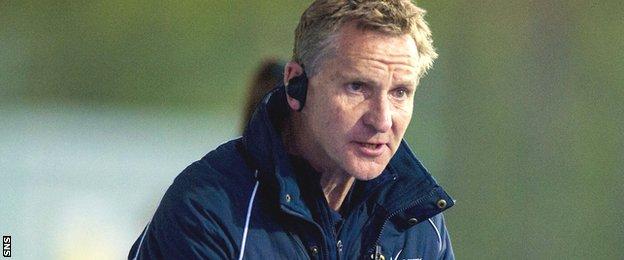 "Sometimes you need assistance to get there, whereas they only really invest once you're there. It's not the way forward."
Scotland's men next weekend compete in the second-tier EuroHockey Nations Championship 2 in Prague, where they will play Poland, Croatia and Ukraine in Group A.
If they can reach the final, they will gain promotion to the continent's top tournament for the first time since 2005, although not in time to play in this year's finals in August in London.
Following recent series wins over Wales and Czech Republic in Glasgow, Forsyth and his squad head to play Poland on Monday for two warm-up games before the nations meet competitively in Prague, a quirk of changes in seeding.
"We have to build our programme over a short period of time, which is consistently reduced," said Forsyth, who led Kelburne to 10 National League titles and five Scottish Cups before his promotion to national coaching roles.
"With more money, we could have more contact time through the off-season, like most other international teams have. They have camps.
"Our women have been to Spain, Germany and Ireland. We've had nothing. They (sportscotland) expect us to keep improving or hit targets, but they are not willing to invest. I don't understand it."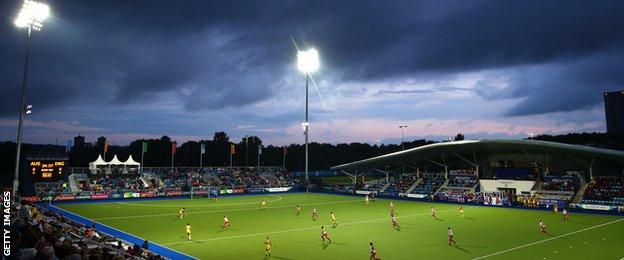 According to sportscotland, which is also funding four regional development managers, its budget decisions were based on sports "building capacity, showing growth in membership, displaying good governance, and attaining performance targets".
Its spokesperson told BBC Scotland: "The men's team had bespoke investment in the run-up to the Commonwealth Games, as did other sports such as weightlifting and table tennis.
"There's a finite amount of money available. We are investing £3.2m in hockey.
"The women's team has been performing particularly well over a number of years and we are continuing to invest in the performance programme and in development.
"For the men's team, our focus is on development. We will review the performance of the men's team on an ongoing basis."
The cut in the budget is a direct result of the men's team not meeting the performance targets set in the 2011-15 cycle, which incorporated the EuroHockey finals in 2009, 2011 and 2013, plus the 2014 Commonwealth Games where Scotland finished eighth.
"In the men's game, the Commonwealth Games is not far off a World Championship," continued Forsyth.
"Australia, England, Pakistan, India - they are all always top-10 world teams, they are all full-time.
"Scotland is expected to compete against these guys.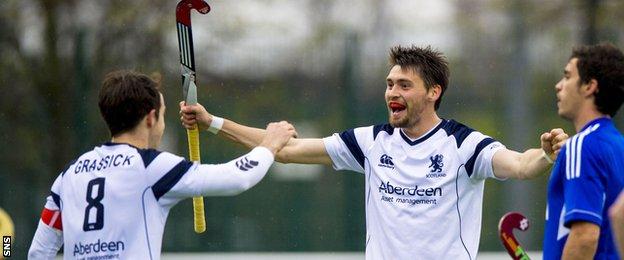 "We lost 5-0 against Australia [the world's top-ranked team], Australia beat England 5-0 in the World Cup. England have a full-time programme, we had 21 days' training.
"We lose 2-0 to South Africa, who have been training for 10 months going to a World Cup.
"Malaysia [currently ranked 12th in the world] are full-time, we lose 2-1. We lose 6-2 to India, who are a professional outfit who have been together for eight months.
"How am I supposed to compete against that? It's like Alloa Athletic playing against Manchester United and they have to win. It's ridiculous."
Highlighting the coaching challenge he faces, Forsyth points out that his first contact with Chris Grassick and Gordon McIntyre since last summer's Commonwealth Games was just a few days ahead of last month's three friendly matches against Wales.
That is because Surbiton's Grassick and Beeston's McIntyre, originally from Edinburgh and Greenock respectively, are tied to the Great Britain set-up at Bisham Abbey.
"My hands are tied," added the manager. "When they come back here, they are coming from a professional set-up to an amateur set-up."
On Friday, Scottish Hockey announced that it had partially offset the loss of funding by securing sponsorship from Edinburgh-based Artemis Investment Management.