Rio 2016: Ireland's hopes hit as Brazil secure Olympic berth
Last updated on .From the section Hockey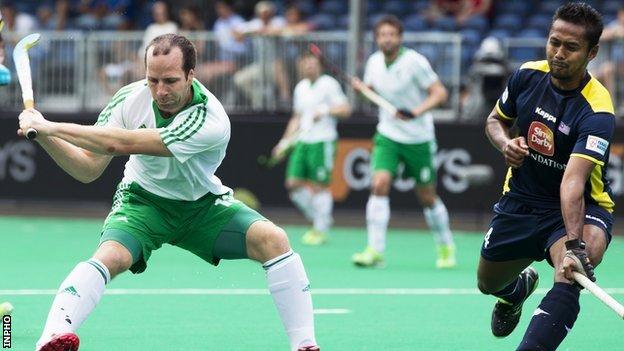 Ireland men's prospects of Olympic Games qualification have suffered a blow after hosts Brazil booked their berth in Rio.
However, the Irish need results to go their way in other tournaments.
Brazil's qualification on Tuesday night was not what the Irish wanted although they are still well placed to qualify.
The Brazilians shocked the USA on penalties in the quarter-finals at the Pan-American Games in Toronto to secure their place in Rio.
Ireland's Rio scenarios - three must go their way
Chile don't win Pan-American Games title this weekend
Australia do win the Oceania Continental Championship
France or Russia don't win European Championship
South Africa win African Continental Championship
Brazil needed a top-six finish in Toronto to secure the Olympic spot available to host countries and they have achieved that after joining hosts Canada, Argentina and Chile in the Pan-American semi-finals.
Of that quartet, Chile are the only nation not to have already qualified for Rio and Ireland will be hoping that they do not go on to clinch a surprise victory in Toronto.
Irish eyes will also be focused on a number of other confederation tournaments over the coming months.
Firstly, Ireland will hope that France or Russia do not clinch a surprise victory at the upcoming European Championship.
The Irish also need already Olympic-qualified duo Australia and South Africa to claim expected triumphs at the Oceania Championships and African Championships.
If two of the remaining four scenarios go against the Irish, they will miss out on a Rio berth.