Ireland bring in trio for EuroHockey Championships
Last updated on .From the section Hockey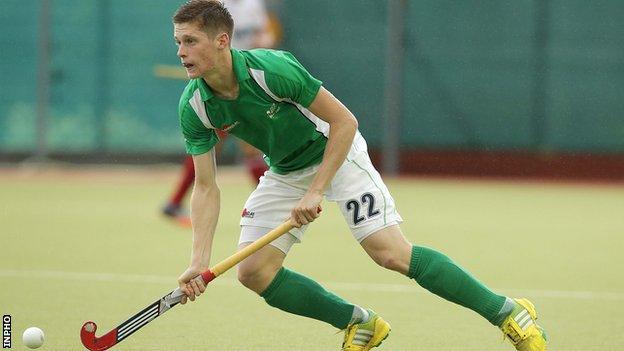 Ireland have made three changes for this month's EuroHockey Championships with Michael Robson, Matthew Bell and Jonny Bruton coming into their squad.
The trio replace Jonny Bell, Drew Carlisle and Stephen Dowds in the 18-player panel for the tournament in London on 21-30 August.
Ireland will face Germany, Belgium and France in Group B.
The Irish are on the verge of Olympic qualification after placing fifth at the recent World League tournament.
However, Ireland need results to go their way in other tournaments to secure a first Olympic appearance.
"Final selection was done this week after a three-week block of training and two important matches against World number two side Netherlands," said Irish coach Craig Fulton.
"It is a strong squad and there is plenty of belief and confidence in the group going into the Europeans on the back of good performances in Belgium.
"At the same time we are well aware of the challenge that lies ahead against the quality opposition at the tournament. Our goal is simple to finish as high as we possibly can."
Ireland squad: Mathew Bell (Banbridge), Jonny Bruton (Three Rock), Peter Caruth (Monkstown), Chris Cargo (Racing), Mitch Darling (Three Rock), David Fitzgerald (Monkstown), Paul Gleghorne (Lisnagarvey), (Kyle Good (Dragons), Ronan Gormley (Krefeld), Conor Harte (Racing), David Harte (Kampong), John Jackson (Reading), Eugene Magee (Banbridge), Shane O'Donoghue (Dragons), Michael Robson (Annadale), Kirk Shimmins (UCD), Alan Sothern (Racing), Michael Watt (Surbiton)