All-Ireland club breakaway splits Ulster hockey
By Judith McDevitt
BBC Sport NI
Last updated on .From the section Hockey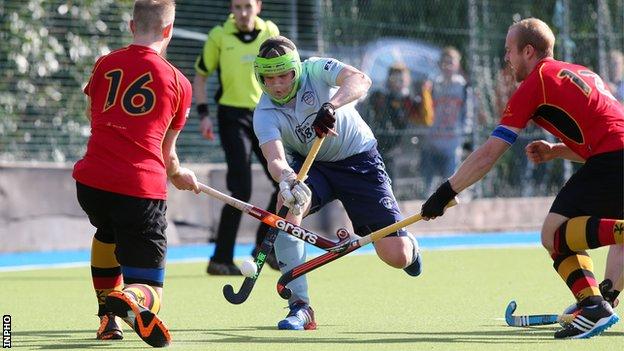 Club hockey in Ulster is witnessing a divide that could cause irreparable damage to club-union relationships.
Although all agree that change is needed in order to elevate the game to a higher level, the dispute over the form it should take is fuelling tension and frustration across the province's hockey community.
Local hockey has already transformed over the years. At one time, the image was of gravel pitches and half-time oranges, but now it has moved on to slick blue astro-turf pitches with sponsorship.
From 26 September, the Irish Hockey Association is to take the further step of implementing an all-Ireland elite league, which would see the top teams across the island competing on a weekly basis.
Representing Ulster in this new Irish Hockey League will be men's teams Annadale, Banbridge, Cookstown and Lisnagarvey and ladies' sides Ards, Pegasus and Ulster Elks.
Although they will face teams from as far away as Cork, at least there will be easier journeys across the province too.
Some see this as the best way forward. However, the Ulster Hockey Union views the move as a breakaway that weakens the local game.
David Larmour, recently-elected President of the Ulster Hockey Union, when speaking to the BBC, said he wants "to see all of Ulster Hockey back together again as one family".
He explained that, although there has always been an IHL, and this is simply a revised structure, Ulster "isn't particularly fussed on this format" and believes that "it will do a lot of damage to Ulster".
In May, the Ulster Management Board boldly declared on the UHU website that, by deciding to join the IHL, several clubs "created a divide in Ulster".
Furthermore, the seven participating teams will no longer be allowed to take part in Ulster cup competitions.
The union believes that permitting these teams to compete would "undermine... the history of Ulster hockey ... and is surely not in the best interests of hockey in Ulster."
Opposition to this has been strong. Several clubs in the Premier League have argued that "the inclusion of the IHL teams adds marketing value for sponsors" and would "deliver increased spectator numbers and income" in Ulster cup competitions.
Ulster player and Ireland international Eugene Magee is adamant that "in order for hockey in Ireland to continue to grow we must adopt a full Ireland hockey league. If we continue to keep the same format, regional hockey will stagnate".
Looking forward to 2016, success on the international stage is a real possibility. By October, Ireland's men will know if they have qualified for the Rio Olympics.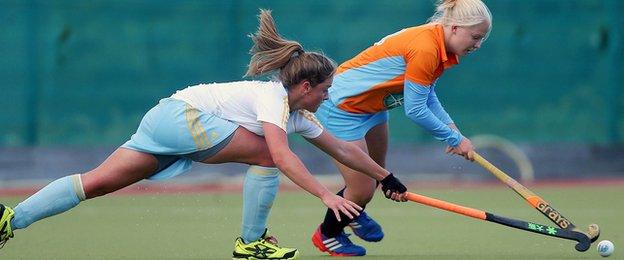 At the recent Hockey World League, half of the Ireland squad were Ulster-born so, if successful, local players could have a huge influence on the Olympic outcome.
The Irish Hockey Association outlines its hopes for international success, stating that the "idea of creating heroes is a central theme" in promoting the new league, "making role models of our top stars ... for our youngsters".
Inez Cooper, IHA Chair of Competitions, points to both the finance and the success of other fringe sports in Ireland, such as women's rugby and cricket.
Responding to the news that women's rugby receives substantially higher levels of funding, she states that "we're missing a trick here and we are not helping promote ourselves".
"At times, I think we are like an underground movement. A national league would be a pillar for helping to get regular exposure for hockey."
This new IHL will involve only 2% of all teams in Irish hockey, but a rift in Ulster could affect many more than that.