EuroHockey 2015: Scotland women retain top-tier place
Last updated on .From the section Hockey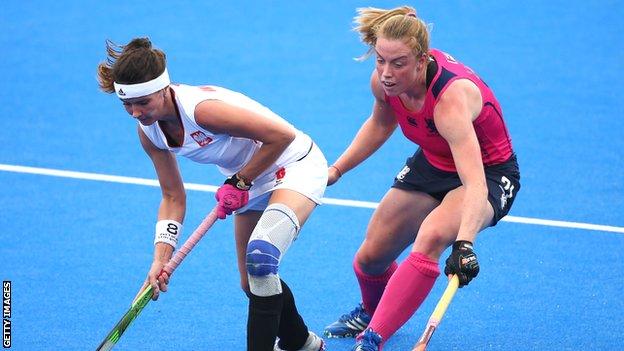 Scotland women retained their top-tier status and secured a place at Euro 2017 with a 2-0 win over Poland at the EuroHockey Championships in London.
The win earned Gordon Shepherd's team sixth place and with it comes a place at consecutive top-level European tournaments for the first time.
Scorer Vikki Bunce, of Dundee Wanderers, told BBC Sport: "Notoriously, we have been a bit of a yo-yo team so it is massive for us.
"We are absolutely delighted."
Scotland finished third in Pool C of the tournament at the Olympic Park in Stratford, losing 2-1 to eventual champions England and Germany before defeating Italy 3-1.
On Friday the Scots lost 1-0 to Belgium in the play-offs as their opponents retained their top-level status, but Scotland rounded off their involvement with the vital win over the Poles.
Bunce continued: "We wanted to secure our position and compete with the top teams and I think that we've done that.
"We knew that if we put in a good performance that the outcome of the match would take care of itself.
"There wasn't too many nerves, we were more excited than anything else.
"The past couple of years we have secured some funding to go full-time in the build-up to our big competitions and that has been a massive benefit.
"It is really difficult to compete against the teams who have that funding all year round so having that opportunity to train as a team day in, day out is massive. Hopefully with us securing that position, that will continue."
While some of the Scotland squad return to their day jobs on Monday and others return to their studies, for Nikki Kidd, Scotland's other scorer against Poland, she will be returning to Germany to play for Mannheimer.
She said: "We're a young team, on average. There is so much more to come from us. We can give the big teams a run on our day. It means a lot for us to hold our position in the top six.
"We tried to go out there and set the tone and press really hard. We reaped the rewards and managed to get in behind them and take advantage."
Asked about her prospects of playing for Great Britain at the Rio Olympics, the drag-flick expert replied: "My focus here is on wearing a Scotland shirt. It's great to play with this bunch of girls; we are an exciting side."
Scotland women's squad: Amy Brodie, Leigh Fawcett, captain (both Grove Menzieshill), Fiona Bruce, Ali Howie, Susan McGilveray, Nicki Skrastin (all Clydesdale Western), Louise Campbell, Nikki Cochrane, Becky Merchant (all Edinburgh University), Vikki Bunce, Becky Ward (both Dundee Wanderers), Aileen Davis (Clifton), Amy Gibson (Slough), Nikki Kidd (Mannheimer), Nikki Lloyd (Wimbledon), Emily Maguire (Reading), Kareena Marshall (Western Wildcats), Sarah Robertson (Holcolme)