Irish Cup wins for Banbridge and Ulster Elks
By Nigel Ringland
BBC Sport NI
Last updated on .From the section Hockey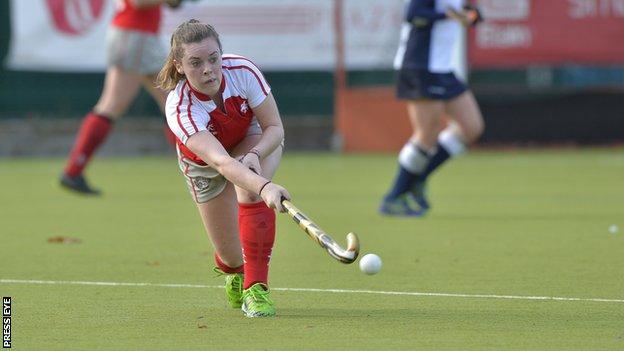 Banbridge and Ulster Elks got their Irish Senior Cup defences off to a winning start on Saturday.
In the men's competition Banbridge beat UCD 5-3 in Dublin with Neil Gilmore scoring twice while Annadale were 4-1 winners at Belfast Harlequins.
Ireland trio Paul Gleghorne, Timmy Cockram and Neal Glassey were on target as Lisnagarvey overcame NICS 5-0.
Elks captain Gemma Frazer was on the scoresheet in a 3-0 victory at Old Alex.
Rebecca Barry and Hannah Irwin were the other scorers for the current EYHL leaders.
Suzanne Ferris scored five times and Vanessa Surgenor helped herself to a hat-trick as Pegasus beat North Down 13-0 but despite her exploits.
However, Ferris wasn't the top scorer of the day as international Anna O'Flanagan helped herself to six as Hermes defeated Greenfields 12-0.
In two other Ulster derbies Dungannon came from 2-0 down at Lisnagarvey to eventually win 5-4 on penalties while Randalstown squeezed past Armagh 1-0, and a treble from Nikki Parke helped Ballymoney into the next round with a 7-2 home win over Cork C of I.
Queens University were blanked 5-0 at UCD while Belfast Harlequins lost 5-3 at UCC.
Kilkeel were the top scorers of the round as they hammered Cork Harlequins 14-1 in the men's competition while Irish champions Monkstown notched 13 in their win at Weston.
Other Ulster winners were Instonians, who overcame Avoca 9-1 and Mossley, who edged Rathgar 2-1.
Men's Irish Senior Cup

Lisnagarvey

5-0

NICS

UCC

1-0

Dublin University

UCD

3-5

Banbridge

Belfast Harlequins

1-4

Annadale

Instonians

9-1

Avoca

Kilkeel

14-1

Cork Harlequins

Newry

1-7

Glenanne

North Down

3-6

YMCA

Corinthian

0-1

Cork C of I

Weston

0-13

Monkstown

Rathgar

1-2

Mossley

Railway Union

7-1

Raphoe

Clontarf

1-5

Pembroke
Women's Irish Senior Cup

Lisnagarvey

2-2

Dungannon (Dungannon won 5-4 on penalties)

Pembroke

0-3

Loreto

Railway Union

2-0

Glenanne

Randalstown

1-0

Armagh

Hermes

12-0

Greenfields

Ballymoney

7-2

Cork C of I

Old Alex

0-3

Ulster Elks

Pegasus

13-0

North Down

UCC

5-3

Belfast Harlequins

UCD

5-0

Queen's University