Irish Hockey League: Lisnagarvey end Cork C of I winning streak
By Nigel Ringland
BBC Sport NI
Last updated on .From the section Hockey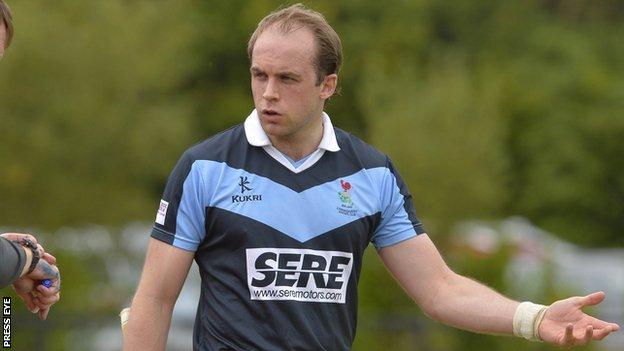 Lisnagarvey ended the perfect start to the Irish Hockey League season by Cork Church of Ireland with a 4-2 win at the Munster side.
Both teams, along with Banbridge who defeated Pembroke Wanderers 3-2, are a point behind leaders Monkstown who were held to a scoreless draw at Three Rock Rovers.
Hermes have the outright lead in the women's IHL as they made it four wins out of four beating Greenfields 8-1. The Dublin side have a two point advantage over Ulster Elks who were held to a 1-1 draw at UCD and Railway Union who had a similar result at Ards.
Three goals in an eight minute spell in the first half help propel Lisnagarvey to an important away win in Cork.
Andy Williamson capitalised on a mistake in the home side's defence to open the scoring, Timmy Cockram's powerful flick from a penalty corner doubled the advantage and Daniel Nelson deflected in the third.
Philip Brownlow pulled a goal back for Cork before half-time and when Simon Wolfe scored two minutes after the interval it was all to play for but Sean Murray's mazy dribble and neat finish moments later made it 4-2 and the Ulster side held on.
Men's Irish Hockey League

Cookstown

3-7

Railway Union

Cork C of I

2-4

Lisnagarvey

Three Rock Rovers

0-0

Monkstown

Banbridge

3-2

Pembroke Wanderers

Glenanne

3-1

Annadale
Banbridge joined Garvey and Cork C of I on nine points after two late goals, both from penalty corners, scored by Stevie Dowds, gave them a dramatic 3-2 home win over Pembroke Wanderers.
Owen Magee gave Banbridge the lead but Paddy Good equalised before half-time and that's the way the game stood going into the final quarter.
Alan Sothern put the visitors in front but with five minutes remaining Dowds pulled the home side level and with barely a minute left on the clock he scored the game winning goal that kept Banbridge on pace with the top three sides in the league.
Monkstown maintain a one point lead at the top of the standings but dropped their first points of the season as they were held to a scoreless draw at Three Rock Rovers - the first game with no goals in the league this season.
Cookstown were beaten at home 7-3 by Railway Union as the Ulster side never recovered from a poor start that saw them trail 4-1 at half-time with all four of those goals coming from James Dick.
Cookstown scorers were Simon Todd, Paul Thompson and Stuart Smyth.
Annandale are now rooted to the bottom of the table after they lost 3-1 at Glenanne as the Dublin side claimed their first points of the season.
Women's Irish Hockey League

Cork Harlequins

4-2

Pegasus

Ards

1-1

Railway Union

Hermes

8-1

Greenfields

UCC

2-3

Pembroke Wanderers

UCD

1-1

Ulster Elks
In the women's IHL Dublin side Hermes maintained their 100% record with a comfortable 8-1 victory over bottom of the table Greenfields.
Irish international forward Anna O'Flanagan scored her second hat-trick of the season giving her eight goals in four games. Chloe Watkins and Naomi Carroll each scored twice with Nikki Evans also on the scoresheet.
Ulster Elks are two points behind in second place after a 1-1 draw at UCD.
Canadian Anna Kozniuk gave the Elks the lead in the first half but Deirdre Duke equalised to earn a share of the points.
Ards were held to 1-1 draw at home by Railway Union. Amy Benson's early goal was cancelled out late on with Cecilia Joyce scoring with three minutes to go, a goal that keeps Railway Union unbeaten and alongside the Elks in the table.
Pegasus are still looking for their first win. Suzanne Ferris gave them the lead at Cork Harlequins but they eventually lost 4-2.
Pembroke were the other winners, 3-2 at UCC.Lisnagarvey ended the perfect start to the Irish Hockey League season by Cork Church of Ireland with a 4-2 win at the Munster side.