Irish Hockey League: Pegasus edge Elks in Ulster derby
By Nigel Ringland
BBC Sport NI
Last updated on .From the section Hockey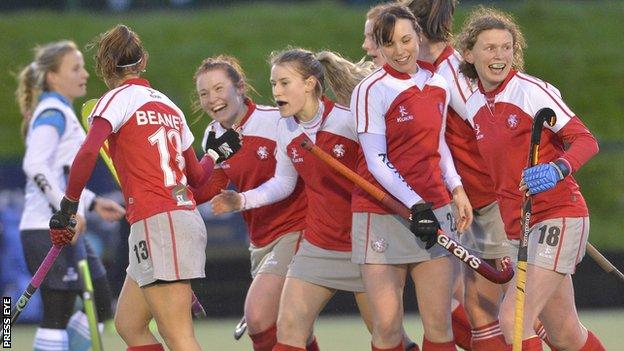 A late winner from Vanessa Surgenor gave Pegasus a 2-1 win over Ulster Elks to move up to fifth place.
Suzanne Ferris put Pegasus ahead at Jordanstown ahead before Gemma Frazer equalised with nine minutes left.
Lisnagarvey's winning streak in the IHL reached six games as they beat Three Rock Rovers 4-0 at Comber Road.
The gap to Monkstown widened to four points after they drew 1-1 with Banbridge, who remain third but six points adrift of their Ulster rivals.
Irish international Michael Watt made his first appearance for Lisnagarvey after his move from England and the home side made a quick start with Andy Williamson giving them the lead in the first quarter.
Three Rock Rovers had only lost once this season and had moved up to fourth place going into the eighth round of matches and in a high paced opening they were unlucky not to equalise.
Garvey's second goal came before half-time through Andy Forrest and after the interval they wasted little time in making it 3-0. Straight from the push back, Williamson broke down the right and Daniel Buser swept the ball home.
Williamson rounded off the scoring, converting a Timmy Cockram pass.
In the battle between second and third it was a strike from Johnny Bruton that gave Monkstown the lead over Banbridge and the league's leading scorer Gareth Watkins also missed a great opportunity to double the advantage.
It was a mistake from Monkstown that contributed to the equaliser from Fraser Mills and neither side could force a winner in the second half.
Railway Union beat Cork Church of Ireland 1-0, while a late winner gave Glenanne victory at Pembroke Wanderers by the same scoreline.
The basement battle between Annadale and Cookstown was postponed because of the weather.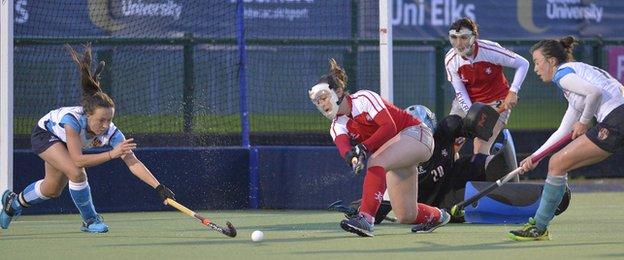 South African international Erin Hunter made her debut for Ulster Elks but couldn't stop her new team going down at home to Pegasus.
It was a game of few chances early on but Ferris broke the deadlock in the second quarter for the visitors.
With nine minutes to go Elks levelled the game. After initially messing up a penalty corner the situation was recovered by Megan Frazer and her pass was converted by captain Frazer.
They weren't on level terms for long - from a well worked penalty corner, the ball was hammered home by Surgenor.
The result moved Pegasus up to fifth place and just a point behind the Elks who saw Cork Harlequins leapfrog them into third after a 7-0 success over Greenfields.
Pembroke and Railway Union finished scoreless leaving Hermes, whose game at UCC was called off, still six points clear at the top.
Two goals from Deirdre Duke and another from fellow international Katie Mullan helped UCD to a 3-1 win over Ards on Sunday.
EYHL Results
Men
Pembroke Wanderers 0-1 Glenanne
Annadale P-P Cookstown
Railway Union 1-0 Cork C of I
Lisnagarvey 4-0 Three Rock Rovers
Monkstown 1-1 Banbridge
Women
UCC P-P Hermes
Cork Harlequins 7-0 Greenfields
Pembroke Wanderers 0-0 Railway Union
Ulster Elks 1-2 Pegasus
UCD 3-1 Ards (Sun)