Ireland men draw 3-3 against South Africa in Cape Town
Last updated on .From the section Hockey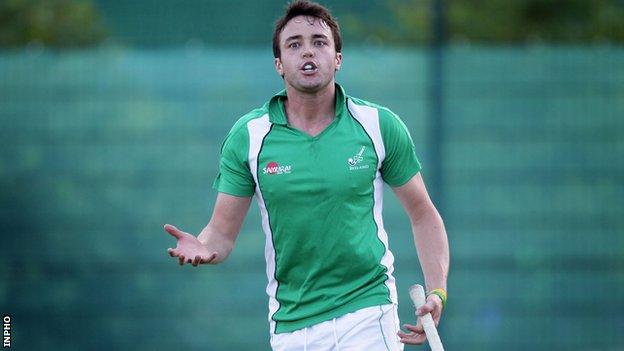 Ireland's men fought back from 2-0 down to earn a 3-3 draw against South Africa in the latest in their series of internationals in Cape Town.
Two Kyle Good goals levelled the contest and while South Africa regained the lead, Chris Cargo's strike earned the Irish a draw.
Keeper Jamie Carr had a fine game for the Irish who face Canada on Wednesday.
Ireland's women beat Spain 3-2 on Monday with Chloe Watkins, Naomi Carroll and Zoe Wilson on target.
The Irish women were beaten 3-0 and 2-1 by Spain in their opening two games in the four-match series and the final meeting between the countries takes place on Tuesday morning in Valencia.
Ireland's men will face the Canadians on Wednesday and Thursday before next weekend's two contests against Belgium.
The matches are part of Ireland's preparations for their challenge at the Olympic Games in Rio in August.
Ireland opened their series of games in South Africa by earning a 2-0 win over Canada before drawing 1-1 against the same opposition on Saturday.