Irish Hockey League: Leaders Lisnagarvey ease to win over Banbridge
Last updated on .From the section Hockey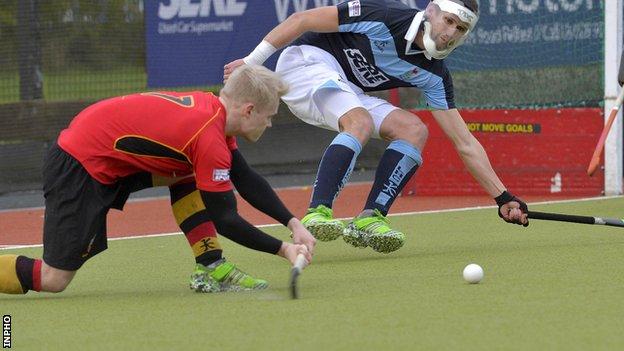 Lisnagarvey continued their dominance of the men's All Ireland League as they beat Banbridge 4-0 on Saturday.
Monkstown remain seven points behind after a 3-0 win at Pembroke Wanderers.
At the other end of the table Cookstown won for the only the second time this season as they beat Glenanne 3-2 while Annadale drew 1-1 with Cork C of I.
In the women's IHL, Hermes dropped their first points of the season as Pegasus earned a 3-3 draw there were wins for Ulster Elks and Ards.
Lisnagarvey's ninth league win in a row came at the expense of Banbridge and all but ended their Ulster rivals' chances of securing top spot this season.
Andy Williamson slotted home the opening goal from Michael Watt's drag back and Timmy Cockram added the second before half-time with a low flick at a penalty corner that had been won by Watt.
A final-quarter assault on the Garvey goal led to nothing and the leaders took advantage on the counter attack with Daniel Buser scoring twice in the final five minutes to add a little gloss to the score line.
Ulster's Peter Caruth was amongst the scorers for Monkstown as they won 3-0 at Pembroke to remain in second place and are now four points ahead of Banbridge.
Cookstown's second win of the season came at Tallaght in Dublin as they saw off the challenge of Glenanne, 3-2 with Andy McWhirter scoring the winner with seven minutes to go.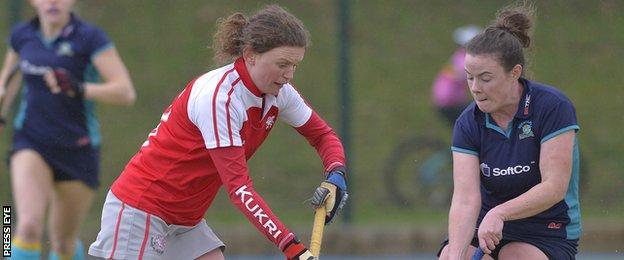 Annadale picked up a vital point as James Cox scored a last-minute equaliser from a penalty corner to earn a 1-1 draw with Cork C of I at Lough Moss.
It leaves Cookstown and Annadale tied on six points each with both league games between the two sides scheduled for the next two weekends.
In a fine advert for Irish women's hockey at Queen's, the points were shared between Pegasus and leaders Hermes.
Sarah Greene opened the scoring for the Dublin side in the first quarter with a well placed shot low into the corner of the Pegasus net but almost immediately Alex Speers levelled for the Belfast side.
Irish international Anna O'Flanagan set up the second goal for Hermes as she drove into the circle and her shot looked like it was going in but Ellen Curran made sure with the final touch.
Kate McConnell's turnover, run and cross was converted by Tate Doherty to leave the score tied at 2-2 going into the final fifteen minutes.
Hermes looked like extending their winning run to 13 games when Catriona McGilp put them ahead again but with only six minutes left it was Hannah Grieve's powerful shot from a penalty corner, that deflected high into the net of a Hermes stick, and secured a well deserved point.
Hermes need only one more win to lock-up first place and a spot in Europe next season but the battle for the other two play-off berths looks set to go down to the wire with five games remaining and four points separating the next five teams.
Railway Union remain in second place but lost 3-2 at home to UCD, Pegasus are only a point behind in third with UCD fourth and Cork Harlequins moved into fifth ahead of Pembroke after beating them 5-1.
Ulster Elks can get themselves back into contention if they can beat bottom club Greenfields at home on Sunday after they demolished UCC 7-0 with Gemma Frazer and Hannah Irwin scoring twice and Megan Frazer, Jordan Page and Dawn Axon getting the others.
Ards beat Greenfields 2-0 with Kerry Harvey deflecting in a penalty corner and Chloe Brown finding the roof of the net with a fine back hand shot.