Lisnagarvey book Senior Cup final place
Last updated on .From the section Hockey
Lisnagarvey will meet Monkstown in the Irish Senior Cup final after coming from three goals down to beat Three Rock Rovers on penalty strokes.
Dublin team Monkstown overcame Tallaght outfit Glenanne 6-2 to book their place in the decider.
The women's final will be an Ulster derby as Ards produced a surprise by beating league champions Hermes on penalties and Ulster Elks beat UCD 4-2.
Both games will take place in Dublin on Sunday, 20 March.
Lisnagarvey found themselves facing a 3-0 deficit with just 24 minutes to go as goals from Luke Madeley, Freddie Morris and Conor Empey put Three Rock Rovers in the driver's seat at Comber Road.
It was international Michael Watt's fine finish that set Garvey on the comeback trail and he was instrumental in setting up Neal Glassey to reduce the gap to just a goal.
It looked like Rovers would hold on but with two minutes remaining Matty Nelson made it 3-3 and the tie went straight to penalties.
The perfect run of conversions came to an end when Garvey goalkeeper John Tormey saved the fourth Rovers penalty and it set the stage for Sean Murray to slot home from the spot to put Garvey into the final 5-4 on strokes.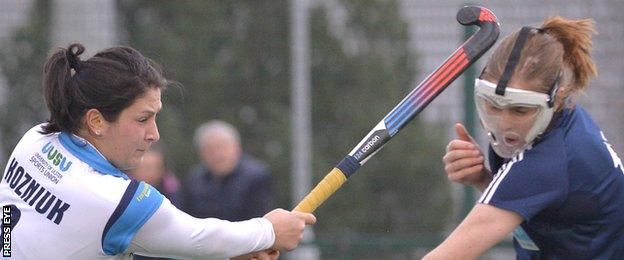 In the women's competition, Ards provided the shock of the day by knocking out league champions Hermes on strokes.
Two goals from international Anna O'Flanagan in the opening 13 minutes looked to have put the Dublin side on route to a potential double, but second half goals from Amy Benson and Chloe Brown levelled the game at 2-2 and it was Brown who scored the winning penalty.
Meanwhile, at Jordanstown, Irish captain Megan Frazer scored twice, with other goals from Gemma Frazer and Chloe Mitchell as the Elks beat UCD 4-2.