Irish Hockey League: Lisnagarvey clinch men's title with three games to spare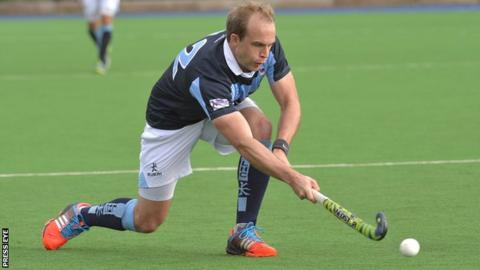 Lisnagarvey are the All-Ireland League champions after a convincing 7-2 win at bottom club Annadale left them with an unassailable lead at the top of the table with three games remaining.
Timmy Cockram and Sean Murray hit two goals apiece as Garvey won their 13th game in a row.
Banbridge took another step towards clinching a play-offs place by beating Cookstown 5-0.
That result left the County Tyrone side deep in relegation trouble.
The difference in class between the top and bottom of the All Ireland league was on show at Lough Moss on Saturday with Lisnagarvey clinching the title in style with a selection of top quality goals.
Led by their Irish internationals, Garvey were held scoreless by some stout defending from Annadale until the 24th minute but from the moment Daniel Buser redirected James Lorimer's ball into the circle past goalkeeper Jonny Moore, the result and destination of the championship were never in doubt.
The pick of the goals came from Neal Glassey, who hammered home a reverse stick shot from a tight angle.
Fellow internationals Cockram and Murray each scored twice with Andy Williamson chipping in with a goal from a penalty corner.
Their lead at the top stretched to 13 points after Monkstown were held to a scoreless draw by Glenanne.
Banbridge need one more win from their three remaining game to make certain of joining the two sides above them in the league in the end of season Champions Trophy play-offs after a 5-0 win at Cookstown.
Stephen Dowds helped himself to a hat-trick with Matthew Bell and Ross Beattie getting the other goals.
That defeat saw Cookstown slip back into the relegation play-off place on the same number of points as Cork C of I, after they drew 2-2 with Three Rock Rovers, but behind Cork on goal difference - both sides remain three points ahead of bottom of the table Annadale.
In the other game Pembroke Wanderers edged Railway Union 3-2.