Uddingston win European Hockey Federation club award
Last updated on .From the section Hockey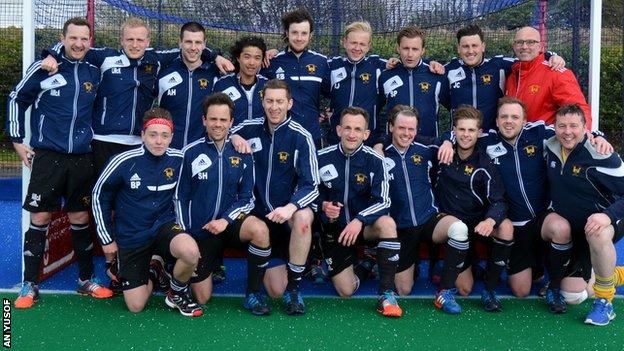 Uddingston Hockey Club has become the first Scottish club to win the European Hockey Federation Club of the Year Award for Small Clubs.
The Lanarkshire club impressed the judges with their work in 2015 in areas as diverse as membership growth, coach education and sponsorship generation.
European Hockey's Marijke Fleuren noted that the award was "well deserved".
The president said: "They have shown us what it means to be successful - hard working, inclusive, community centred."
The award, for clubs with fewer than 300 members, was welcomed by Uddingston's director of hockey Steven Percy.
"We have a core group of volunteers who have bought into a strong club vision and have been committed to achieving our ambitions," he said.
"The club is delighted to receive this award, as it recognises the value of those volunteers' work, time and efforts to generate success.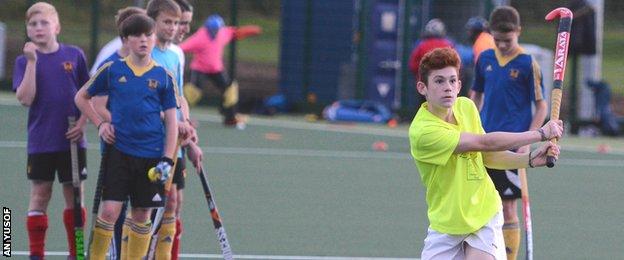 "Our targets are to have all our teams playing at the highest level possible, further grow our youth programmes, build a new changing facility and indoor hall, to produce talented players for recognition at district and Scottish level, and maintain our successful in-schools programme."
Lauren Fletcher, Scottish Hockey's Glasgow & West development officer, hopes the award will inspire other clubs in Scotland.
"Clubs are the engine room of the sport," she said.
"We want them to be strong, vibrant organisations in order to attract and retain members.
"We have worked in partnership with Uddingston to help support their ambitions and we are delighted it has been recognised by the EHF for the fantastic work it has done to grow all aspects of their membership and infrastructure."
Among Uddingston's achievements are their near-300% increase in the number of youth players, having players selected for the Scotland Under-16 and Under-18 squads and the employment of three coaches to deliver a 40 week-long schools hockey programme across Glasgow and Lanarkshire to more than 14,000 pupils.
Sevenoaks won the European Hockey Federation Large Club of the Year award.
Midfielder Nairn Scobbie has been a member at Uddingston for over 20 years, and attests to the club's drive to grow interest in hockey across the local area.
"To be awarded something like this is huge for the club," Scobbie told BBC Scotland. "Being a player for so long, just to see how far it has come to then culminate in getting this award is a great achievement and I'm very proud to be a part of such a great club.
"Certainly with regards to the youth development, the coaches we have out working in local schools, targeting a lot of pupils between the ages of four and 16. That will again help the club grow in future so we can recruit players from those schools, get them interested in hockey, and get them along to Uddingston."