Pegasus and Railway Union into Champions Trophy play-offs
Last updated on .From the section Hockey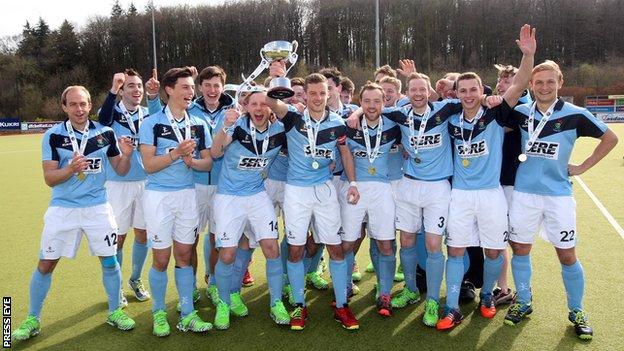 Pegasus and Railway Union will complete the line-up for the Women's Champions Trophy play-offs in Banbridge at the end of April after winning on Saturday.
Pegasus beat Ulster Elks 4-2 on the last day of the regular season while Railway Union defeated Pembroke 2-1.
Meanwhile Ulster side Annadale were relegated from the Men's All-Ireland League after a 6-3 defeat at Monkstown.
Pembroke Wanderers finished in fourth place to secure the final spot in the play-offs.
Pegasus take an early lead
Pegasus started the afternoon needing only a point from their final game with the Ulster Elks and they took an early lead through an Alex Speers goal.
Irish captain Megan Frazer soon equalised for the Elks from a penalty corner and they went on to create and miss several good chances.
Pegasus made them pay when Kate O'Connell's cool finish put the home side ahead at half-time.
Suzanne Ferris and Steph Quinn would add further goals for the Belfast side with Jess McMaster's strike with seconds remaining merely a consolation for the Elks in a game that was much closer than the scoreline suggests.
In the play-off semi-finals Pegasus, who finished runners up in the league, will play third place Railway Union who defeated Pembroke 2-1 thanks to a pair of goals from Emma Smyth.
Champions Hermes, who finished the season with a 5-1 win over UCC, will take on the Elks.
In Saturday's other games UCD beat Ards 2-1 while Cork Harlequins defeated the already relegated Greenfields 2-0.
Annadale relegated
As expected Annadale were relegated from the Men's All Ireland League after a 6-3 loss at Monkstown in a game where Gareth Watkins scored a hat-trick for the home side.
Monkstown secured second place behind Lisnagarvey in the league and will face Banbridge in the play-off semi-finals.
Garvey received the league champions trophy after they finished as incredible campaign with a thumping 6-0 win over Railway Union with Irish international Michael Watt scoring a hat-trick.
Garvey won 17 of their 18 games and finished with 16 straight wins.
The battle for fourth place went down to the wire. Pembroke's 3-2 win over Cork C of I meant they had to sit and wait on the result from Banbridge.
Two goals from Bruce McCandless and one from Eugene Magee were enough to see off Glenanne 3-2, handing Pembroke the final play-off place and they'll now face Lisnagarvey in the final four.
Cookstown must wait after win
Meanwhile Cookstown's 2-0 win at Three Rock Rovers means they'll have to wait until the result of Sunday's rearranged game between Cork C of I and Monkstown to see if they will avoid the relegation play-off but only a heavy defeat for Cork would allow that to happen.
Also going on are the provincial play-offs with places in next weekend's semi-finals and a chance of promotion to the All League League at stake.
In the men's, Instonians and Belfast Harlequins both remain on course after wins over UCD and Corinthian respectively.
Inst only need a point from their final game on Sunday against UCC while only a win for Harlequins over Clontarf would guarantee their progression.
A draw with Galway would be enough for the Belfast Harlequins women's team to advance while in the other group victories on Saturday for Ulster champions Lurgan and Randalstown over Glenanne and Old Alex respectively mean draws in their final games on Sunday would be enough to see both sides make it through to the semi-finals.
They will be held at Three Rock Rovers in Dublin next Saturday, with the finals on Sunday.