Guernsey player-coach Andy Whalley wants side to enter National Cup next season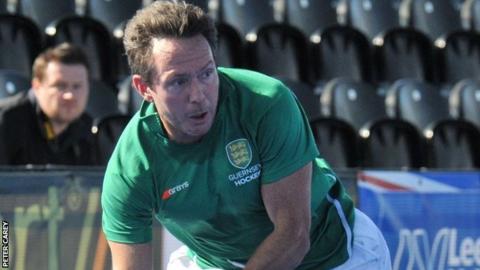 Guernsey player-coach Andy Whalley says their "next big challenge" should be to enter the EH National Cup next season.
The Sarnians won the National Trophy on Sunday for the second time in three years but want to compete in the premier competition for the first time.
"Pending getting sponsorship in place, and slightly better funding, we'd like to enter the cup," he told BBC Sport.
"I feel now that we are consistently playing at a level higher than the trophy."
The National Cup contains teams from the country's elite leagues which are deemed too strong to enter the second-tier competition.
But Guernsey, who have reached five consecutive National Trophy finals, still want to attempt to defend their title.
"It's really important we stay within it, but also I think we can challenge ourselves at a higher level," added Whalley.
"That would be our next big challenge - I'd certainly like to be seeing us through two or three rounds of that and see them play the highest stage they possibly can.
"We've got the start of something really good and I think it'll continue for a few years to come."