Kelburne relish hosting EuroHockey Club Champions Trophy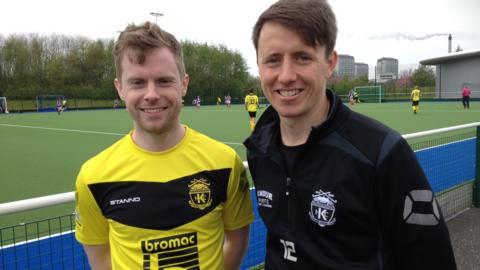 EuroHockey Club Champions Trophy
Venue: Glasgow Green Dates: 13-16 May
Coverage: BBC Sport website
Kelburne midfielder Iain Scholefield hopes hosting the EuroHockey Club Champions Trophy will inspire a new generation of players.
The Paisley club are representing Scotland in the four-day tournament at Glasgow Green, which begins on Friday.
"We hosted a tournament in Linwood in 1995 so I went along when I was eight and that was my first taste of high-level hockey," said the 29-year-old.
"It set me up for my career. It will be great for the team and the club."
In the years that followed that European Hockey Federation tournament 21 years ago, Scholefield went on to establish himself as a key member of the Scotland set-up.
He retired from international hockey after winning 128 caps and having played at the Delhi and Glasgow Commonwealth Games.
His career also took in a spell with Uccle Sport in Belgium, two seasons playing for Qui Vive in the Netherlands and one in Australia, before he returned to Scotland.
"Seeing teams coming from all the different countries, getting a taste of hockey at a high level, hopefully it will inspire the young players to be in our position," he told BBC Scotland.
The teams taking part are Cardiff & Met from Wales, Banbridge from Ireland, Czech side Slavia Prague, Minsk from Belarus, Bra of Italy and Rotweiss Wettingen of Switzerland.
Kelburne's men's team, who play their home games at Glasgow Green because there is no water-based pitch in Renfrewshire, have won the Scottish National League One title for the past 12 years.
However, they are playing in European hockey's second tier because they lost to Grange on penalties in the domestic play-off final.
"The EuroHockey League is the premier tournament but this is still a very high standard," explained Scholefield, who will line up against Minsk in the Scots' opening match on Friday at 17:45 BST.
"It's going to be a tough ask for us to win it but we are more than capable."
Tournament pools
Pool A
Pool B
HC Minsk (Belarus), Bromac Kelburne, HC Rotweiss Wettingen (Switzerland), Banbridge (Ireland)
SK Slavia Prague (Czech Republic), Cardiff & Met (Wales),HC Bra (Italy)
His midfield partner Chris Nelson, 31, is excited about the prospect of taking on continental opponents.
"In these tournaments, until it starts you don't really know the quality of the opposition," said Nelson, one of only three Kelburne players to have earned 12 league winners' medals.
"We've never played against a team from Belarus. They could be the best team in the world.
"It does make you more conscious of your style of play. It sharpens you up for when you go back to league hockey.
"Everyone's been thinking about the Euros since the start of the season.
"We've managed to win the league, we've won the cup and we've won the European play-offs and it's all culminating in hosting the Euros. This is what we've been aiming for."
By beating Dundee's Grove Menzieshill, Kelburne will be in Europe's premier tournament next season, the EuroHockey League.
"Because it is the top tournament for club teams in Europe, the standard is very high," said Nelson.
"You are playing against teams from Holland, Germany and Belgium who are all professional. It is good to play against the best players but nine times out of 10 you will be beaten, whereas with this tournament everyone is going to be a similar standard.
"It's going to be tough tournament but we have a chance of winning."