Ulster Elks clinch European Champions Challenge title in Prague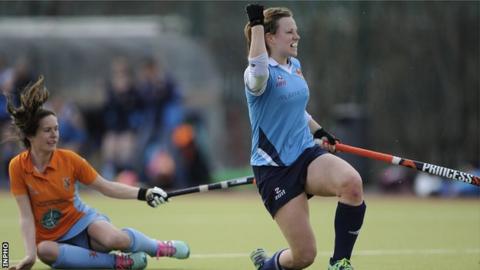 The Ulster Elks won gold at the European Champions Challenge in Prague on Monday after beating Lithuanian side Gintra 3-0 in the final.
Rebecca Barry hit two goals for the Elks with Jessica McMaster also on target in the first half.
Pegasus finished in eighth place in the top-flight event after losing 4-2 to Russian side Krylatskoye in Utrecht.
Banbridge men, playing in the second division, European Trophy event, lost 4-0 to Cardiff in the final.
The Elks, making their first appearance in Europe, scored all their goals in the first-half of the Prague final.
Barry broke the deadlock in the fifth minute when she sent the ball high into the net with a backhand shot.
In the 25th minute, schoolgirls Hanna Irwin and McMaster combined for the latter to score from close range.
Barry got her second and the Elks' third after being set up by Emily O'Leary on the stroke of half-time.
In the Netherlands, Pegasus went in front through a Stephanie Thompson penalty-corner in the 14th minute.
But the Russians replied before the break and added three more goals in five second-half minutes before Hannah Grieve's 59th minute consolation.
In Glasgow, Banbridge conceded four second-half goals to Cardiff.