World League 2: Ireland beat Austria on penalty strokes after 1-1 draw at Stormont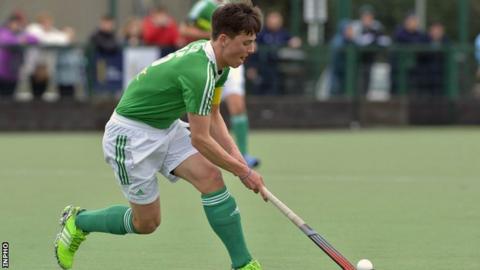 Ireland made it two wins from two in World League 2 Pool A by defeating Austria 4-2 in a penalty shootout after their match ended 1-1 at Stormont.
Matthew Nelson gave Ireland a second-minute lead but Dominic Uher levelled with 100 seconds of the game remaining.
Conor Harte, Eugene Magee, Johnny McKee and Shane O'Donoghue converted their penalties successfully, while Davy Harte made two fine saves.
Ireland will top the group if they beat Italy in Belfast on Tuesday.
Craig Fulton's side got off to the best possible start when Chris Cargo turned and found Nelson in the circle and the Lisnagarvey player slipped his marker and swept the ball into the corner.
McKee and O'Donoghue had opportunities to extend the lead, before Uher equalised in the closing stages of the game.
Ireland had beaten Ukraine 9-2 in their opening fixture of the competition on Saturday.
The Irish men are the highest ranked team in the tournament and a top-three finish would be enough to qualify for the World League semi-finals in the summer.