Irish Hockey League: Banbridge level at top after 1-1 draw with Glenanne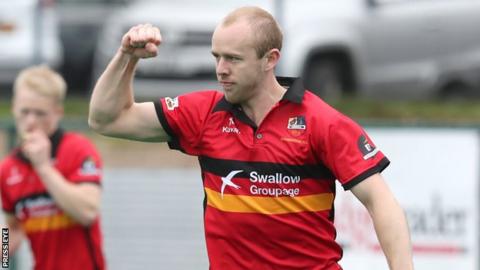 Banbridge drew level with Three Rock Rovers at the top of the Irish Hockey League thanks to Sunday's 1-1 draw with Glenanne to set up an exciting finale to the campaign on 22 April.
Shane O'Donoghue scored for Glenanne, with fellow Ireland international Eugene Magee leveling for Banbridge.
Banbridge enjoy a six-goal advantage on goal difference.
Banbridge entertain Railway Union in their final match, while Three Rock Rovers face Instonians.
Instonians, whose relegation was confirmed on Saturday, lost 3-1 to Monkstown on Sunday.
Banbridge beat UCD 3-2 at Havelock Park on Saturday after leading 2-0 at half-time thanks to goals from Magee and Dane Ward.
Bruce McCandless made it 3-1 after UCD had pulled a goal back and the Dublin students scored again near the end.
Lisnagarvey made sure of a place in the end-of-season play-offs with a runaway 10-0 win over Instonians at Shaw's Bridge which sealed their opponents' relegation fate.
Monkstown went down 2-1 to Glenanne and Cork C of I were defeated 3-0 by Three Rock Rovers.
Irish international Michael Robson marked his return from injury with two of the goals with Andy Williamson also netting twice for the Hillsborough side.
In the women's competition, UCD were confirmed as champions after a decisive 2-1 win over Hermes-Monkstown.
Belfast Harlequins face a relegation play-off after losing 5-1 to Loreto at Deramore while Pegasus defeated Ards 2-0 and Ulster Elks lost 2-0 to Pembroke.
Sarah Torrans scored a hat-trick in the opening eight minutes at Deramore to leave Belfast Harlequins with too much to do to secure the draw they needed to guarantee their safety.
Torrans added two more goals in the second half to complete a memorable afternoon, with Gemma Frazer on target for Harlequins when they trailed 4-0.
Quins must now beat the runners up in the forthcoming provincial play-off series if they are to stay in the national league next season.
Goals in the first quarter from Rachel Scott and Erica Markey gave Pembroke a crucial win over the already-relegated Elks which kept the Dublin side in the top-flight.
In the Ulster derby Pegasus defeated Ards 2-0 at Londonderry Park with goals from sisters Rachael McMillan and Hannah Craig and Railway Union were 1-0 winners over Cork Harlequins.