Belfast Harlequins sign Ireland players Lizzie Colvin and Zoe Wilson
Last updated on .From the section Hockey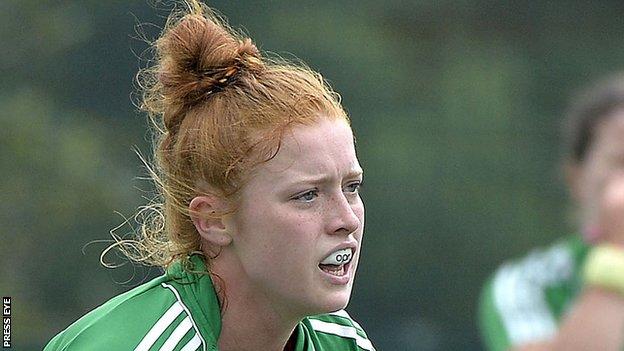 Belfast Harlequins have pulled off a major coup by signing Ireland players Lizzie Colvin and Zoe Wilson.
The Deramore club struggled on their debut in all-Ireland competition and had to rely on beating Lurgan in a play-off to avoid relegation.
Former Armagh midfielder Colvin (27), who has 130 Irish caps, has returned home after playing for Dublin side Loreto for the past five years.
Wilson spent last season playing for German side Harvestehuder.
However, she has returned in the province to continue her studies at Ulster University in Coleraine.
Both players are currently in Johannesburg as the national team prepares for the World League 3 tournament which is also a qualifier for the 2018 World Cup.
Wilson (19) says it was a difficult decision not to stay at her home club Randalstown but she is looking forward to linking up with her new team-mates.
"As we seek World Cup qualification it is important to be playing my domestic hockey in the EYHL but it was with a heavy heart I made the the decision to not to play for Randalstown in the new season." she said.
"It was a difficult call as I had been a member of the club since I was nine-years-old but the girls there have been very understanding of my decision.
"Taking a year out to play club hockey in Germany was an exciting and rewarding experience which I thoroughly enjoyed.
"Joining Harlequins will be a fresh start and a chance to build new friendships in an ambitious club."
Harlequins' EYHL rivals Ards and Pegasus will be disappointed to have missed out on signing the two internationals and Colvin implied that she did consider other offers.
"It was a very difficult decision considering the calibre of coaches and players in the the other EYH clubs." she said.
"However, I really admired Harlequins' tenacity and determination during the EYHL promotion playoffs last year and their desire to play free-flowing attacking hockey."