Women's Hockey World League: Ireland beat Poland to keep World Cup hopes alive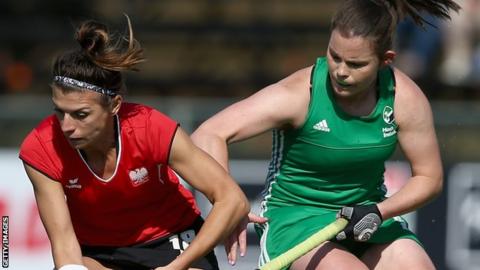 Ireland beat Poland to clinch a place in the quarter-finals of World League Semi-Finals and maintain their push for a place in next year's World Cup.
Monkstown forward Nikki Evans and UCD midfielder Gillian Pinder scored the goals which secured Wednesday's vital victory in Johannesburg,
Ireland play Olympic champions England in their final pool fixture on Sunday.
Victory in the quarter-finals would see the Irish seal a berth in the World Cup finals to be held in London.
Ireland dominated the game against Poland but struggled to convert their pressure into goals.
It took a piece of individual skill from Evans to hold off two Polish defenders before neatly finishing on the reverse stick to open the scoring in the first quarter.
Ireland extended their lead in the third quarter when a loose ball in the circle was picked up by Pinder who fired an unstoppable shot into the top corner of the Polish net.
Ireland will not know who their opponents in Tuesday's quarter-finals will be until the Pool stages are completed, but a win in that game would clinch a place in the World Cup finals for the first time since 2002 as well as a place in the World League final to be held in Auckland in November.
Should Ireland lose their last eight tie, they will play-off for fifth to eighth place with the country taking fifth also booking a place in the World Cup finals.