Women's World League: Ireland beaten 2-1 by Argentina in quarter-final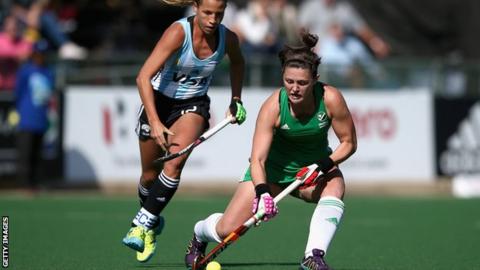 Ireland were edged out 2-1 by Argentina in their quarter-final encounter at the World League in Johannesburg.
It was a battling display by the Irish against the world number three side, who took a second-quarter lead through Delfino Merino's classy reverse finish.
Julia Gomes hit the bottom corner to make it 2-0 before Roisin Upton pulled one back from a penalty corner.
Ireland will play in the fifth-eighth place play-off, with the team finishing fifth earning a World Cup finals spot.
Argentina were firm favourites to progress but they were pushed all the way by a well organised and determined Ireland side.
Upton set up a tense finale after lifting the ball beyond goalkeeper Belen Succi and into the net with two minutes remaining in the third quarter.
The Irish forced a penalty corner in the final quarter-final but failed to convert as their hopes of producing an upset were dashed.
Ireland, who are aiming to clinch a place in the World Cup finals for the first time since 2002, a will not know their play-off opponents until all four quarter-final matches are completed on Tuesday.
Ireland: A McFerran, K Mullan (Captain), S McCay, E Tice, G Pinder, C Watkins, N Daly, H Matthews, A O'Flanagan, Z Wilson, D Duke.
Subs: G O'Flanagan, Y O'Byrne, N Evans, E Beatty, S Loughran, R Upton, L Colvin.
Argentina: B Succi, M Cavallero, M Fernandez, D Merino (Captain), A Habif, M Granatto, F Habif, R Sanchez, L von der Heyde, N Barrionuevo, J Gomes.
Subs: A Gorzelany, E Trinchinetti, A Alonso, M Campoy, M Ortiz, J Jankunas, M Mutio.