Women's EuroHockey 2017: Germany 5-1 Ireland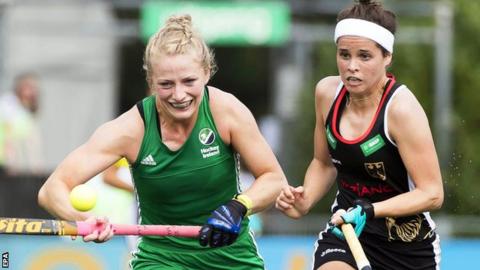 Ireland were easily beaten by Germany in their final pool game at the Women's EuroHockey Championships in Amsterdam on Tuesday afternoon.
The Irish had already missed out on a semi-final spot after England beat Scotland 2-0 earlier in the day.
Goals from Nike Lorenz and Franzisca Hauke put the pool winners in control before Yvonne O'Bryne pulled one back.
Germany surged clear with Pia-Sophie Oldhafer, Cecile Pieper and Charlotte Stapenhorst (2) on target.
The Irish started with a 4-1 defeat by England before a scoreless draw against Scotland.
Ireland now move into the fifth-eighth place pool - they will face Czech Republic on Thursday and Spain or Belgium on Saturday with the bottom two sides relegated to Division Two.
"I'm not sure the result is a fair reflection of the game," said Ireland coach Graham Shaw.
"We got back into it at 2-1 and had a few opportunities, but we're disappointed with the last quarter, we gave away some very soft goals.
"We need to make sure we retain 'A' status and fifth is still a good finish, and that's our aim now."