EuroHockey 2017: Ireland 0-1 Spain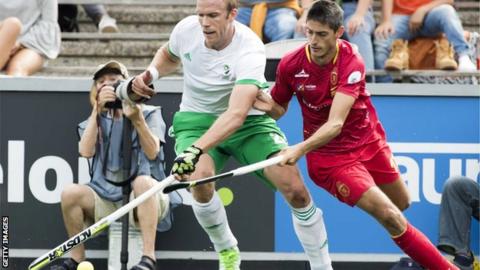 Ireland must avoid defeat by Austria on Sunday to retain their top-flight status after losing out to Spain at the EuroHockey Championships in Amsterdam.
Enrique Gonzalez scored the only goal in the relegation pool play-off after three minutes, sweeping the ball hard into the corner from close range.
Ireland squandered numerous chances to equalise and found Spain keeper Quico Cortes in superb form.
A draw against Austria would be enough for Ireland to finish sixth.
Ireland pressed hard in the latter stages with Alan Sothern firing wide before Cortes kept out Sean Murray's striker and Kirk Shimmins blasted the rebound over the bar.
Sothern drew a reaction save from Cortes, who then sent the ball deliberately over the end line resulting in an Irish corner.
The routine wasn't executed as planned and despite an Irish referral for a stick tackle, the chance for the leveller was lost.
"It was a tight match but I thought we created enough chances to win the game, especially in the second half," said Ireland coach Craig Fulton.
"We're doing the right things, we just need some more confidence and composure in front of goal - it'll come."