Irish Hockey League: Banbridge and Lisnagarvey win again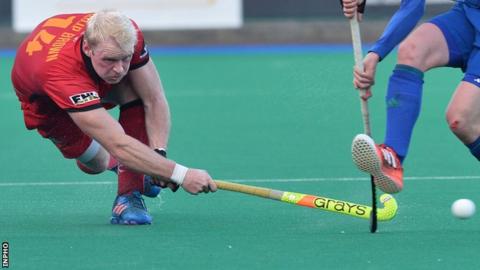 Ulster sides Banbridge and Lisnagarvey kept up their 100% starts to the IHL season with victories on Saturday.
Banbridge defeated Annadale 4-0 and Garvey beat Pembroke Wanderers 6-3 - they are both three points behind Glenanne but with a game in hand.
Ireland player Eugene Magee returned for Banbridge following injury.
Pegasus and Ards drew their games in the women's IHL and remain unbeaten after three rounds of matches but they now trail UCD by a point at the top.
Magee suffered a serious ankle injury 12 weeks ago while playing for Ireland in the World League semi-finals in Johannesburg.
Bann were always on top in the game but found Annadale goalkeeper Johnny Moore in terrific form.
He was only beaten by two penalty corner strikes from Philip Browne, who went on to complete his hat-trick after Moore was withdrawn for an extra attacker in the closing stages. Dane Ward tapped in the final goal into an empty net.
Garvey fight back
Lisnagarvey found themselves 2-1 behind at Pembroke early in the second half thanks to a couple of Alan Sothern goals, but led by Sean Murray and Andy Williamson, who each scored twice themselves, they went on to secure a 6-3 win.
Cookstown lost by a single goal for the third time this season, going down 2-1 at the hands of Cork C of I with Andrew Barbour's goal not enough. Railway Union also remain pointless after losing 2-0 to Monkstown.
Glenanne are the surprise in the early season going as they defeated Three Rock Rovers 3-2 to make it three wins out of three.
Pegasus and Ards drew for the second game in a row and that allowed UCD to move above them in the standings.
Irish international goalkeeper Grace O'Flanagan made a number of good stops to thwart Pegasus in a scoreless game at Queen's.
Ulster side denied
Ards took the lead in the final quarter through Amy Benson and were only a few minutes away from beating Cork Harlequins when Rebecca Barry equalised.
After losing their opening game defending champions UCD have bounced back with a couple of impressive wins.
Ulster's Katie Mullan was on the scoresheet in a 3-1 victory at Trinity College with the other goals coming from fellow internationals Emma Russell and Deirdre Duke.
In the battle of the teams with no points it was Pembroke who got off the mark with a 4-0 victory at Monkstown.
Men's Irish Hockey League
Cork C o I
2-1
Cookstown
Pembroke
3-6
Lisnagarvey
Railway Union
0-2
Monkstown
Banbridge
4-0
Annadale
Three Rock Rovers
2-3
Glenanne
Women's Irish Hockey League
Monkstown
0-4
Pembroke
Trinity College
1-3
UCD
Ards
1-1
Cork Harlequins
Pegasus
0-0
Railway Union