Scotland's women defeat Irish at Stormont to draw three-match series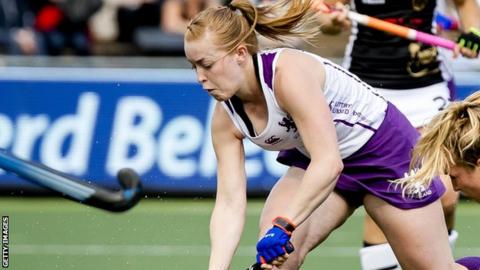 Scotland clinched a 2-1 win over Ireland at Stormont on Wednesday to draw the three-match women's series.
Fiona Bruce put Scotland ahead in the 13th minute with Sarah Jamieson quickly doubling their lead.
Gillian Pinder replied for Ireland from a penalty corner before half-time but despite intense Ireland second-half pressure, they could not get on terms.
Scotland keeper Lucy Camlin made a couple of great saves as the visitors secured a 1-1 series draw.
Ireland's young side drew 1-1 against the Scots in Sunday's opener at Stormont before the hosts earned a 6-2 win at Banbridge on Tuesday.
Despite Wednesday's defeat, Ireland coach Graham Shaw said he was happy with the performances of his young squad in the series.
The Irish squad were much-changed from the European Championships and World League tournaments earlier this year as Shaw handed debuts to four players including teenagers Sarah Torrans and Hannah McLoughlin plus goalkeeper Liz Murphy who started in Wednesday's game.
"We are looking for consistency throughout and maybe at times we let the quality and tempo drop off," said Shaw.
"We were delighted to introduce four new caps over the series and look forward to the games ahead."