Irish Hockey League: Pegasus beat Loreto 6-0 to go top
Last updated on .From the section Hockey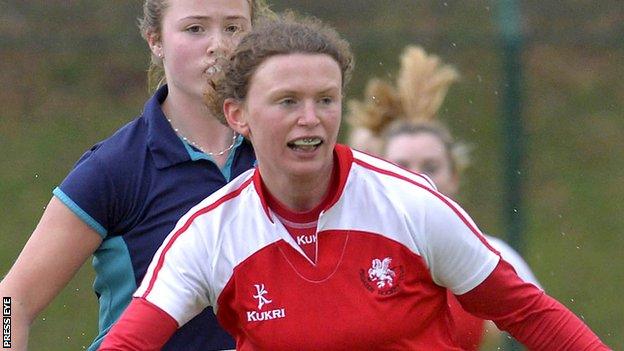 Pegasus moved to the top of the Women's Irish Hockey League on goal difference with a resounding 6-0 home win over Loreto on Sunday.
They edge Cork Harlequins after the Munster side's 5-1 victory at Trinity College on Saturday.
Belfast Harlequins moved up to fifth place and leapfrogged Ards after they got the better of their Ulster rivals 2-1 at Deramore.
Harlequins also have a game in hand over the sides above them.
Glenanne re-took first place in the Men's IHL after a 1-0 win over Annadale in Dublin as they moved a point ahead of Lisnagarvey, who beat Cork C of I 10-0 at home on Saturday for their fourth consecutive win. Garvey also have a game in hand.
Andy Williamson led the scoring with a hat-trick with Daniel Nelson and Neal Glassey bagging a couple of goals each.
Banbridge lost for the second time in a row but Cookstown managed their first win of the season, beating fellow strugglers Railway Union at Steelweld Park.
There were six different goal-scorers for Pegasus as they beat Loreto 6-0 at Queens.
Goals from Lucy McKee, Alex Speers and Taite Doherty saw the Belfast side 3-0 up at half-time and further efforts from Michelle Harvey, Hannah Grieve and Rachael McMillan added to the margin of victory.
Harlequins edge Ards in Ulster derby
Belfast Harlequins edged Ards 2-1 at Deramore in a typically feisty Ulster derby. Harlequins dominated the opening period and scored twice through Jenny McAuley and Lucy Geddes.
Ards pulled one back before half-time with Ellen Robinson knocking the ball in after a scramble in the circle and, led by Chloe Brown, can count themselves a little unlucky not to score an equaliser after the interval as they could not turn their possession into chances.
Elsewhere Kate Lloyd scored a hat-trick as Railway Union beat bottom of the table Monkstown 6-0 while Pembroke and UCD played out a scoreless draw.
At the other end of the table in the battle of the teams without a point it was Cookstown who came away with an important victory, 4-2, over Railway Union. Stuart Smyth with a pair of goals with Jon Ames and Keith Black adding the others gave the Ulster side the three points.
Banbridge went down to their second defeat in a row losing 3-1 at Pembroke despite taking the lead through a Philip Brown penalty corner.
Irish international Alan Sothern scored twice for the home side who moved up to fourth place just behind Three Rock Rovers who had a 3-1 win over Monkstown.