Hockey World League Final: England finish eighth after Netherlands loss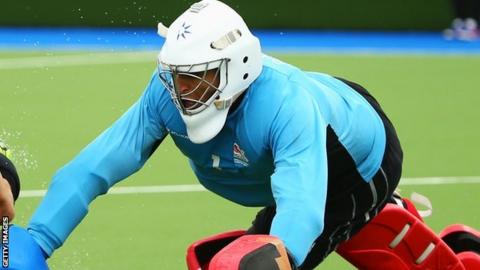 England finished their Hockey World League Final campaign with a 1-0 loss to the Netherlands in the play-off for seventh and eighth in India.
The only goal came in the third quarter through Mirco Pruyser who steered the ball past George Pinner, who was winning his 100th cap.
England trio Harry Martin, Chris Griffiths and Mark Gleghorne all had good chances in the wet conditions.
But Dutch keeper Sam van der Ven pulled off a string of fine saves.
England defender Liam Sanford was named the Junior Player of the Match for the third consecutive game.
England squad: Harry Gibson, Henry Weir, Sam Ward, Mark Gleghorne, Phil Roper, Adam Dixon, Barry Middleton, Brendan Creed, David Goodfield, David Condon, Liam Sanford, George Pinner (captain), Luke Taylor, Harry Martin, Liam Ansell, Chris Griffiths, James Gall.