BBC Sport - Ireland hockey heroes 'will go down in history'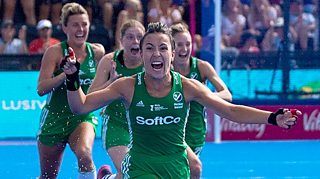 Ireland hockey heroes 'will go down in history'
Ireland captain Katie Mullan says she will "never play with a better group of girls" after her side reached the Hockey World Cup final in London with a 3-2 win on penalties over Spain.
Seven-times world champions the Netherlands await in the final, in which Ireland will once again be underdogs.
Anna O'Flanagan reflects on playing with "extremely close friends" while Gillian Pinder says she is in disbelief after scoring the winning penalty.