Women's Champions Trophy 2018: Results, standings and match reports
From the section Hockey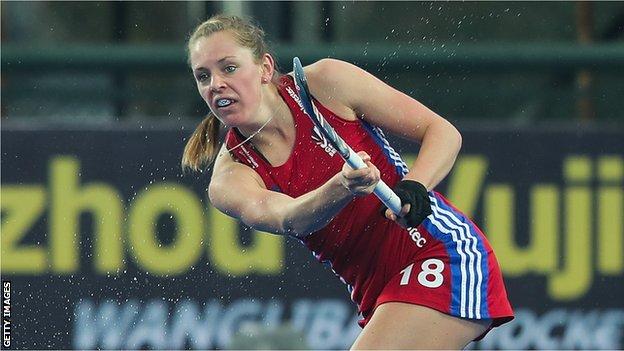 Great Britain's women's team finished fifth in the final Champions Trophy in Changzhou, China.
Britain qualified as Olympic champions and played hosts China, defending champions Argentina, 2018 World Cup winners the Netherlands, Oceania champions Australia and Asian Games champions Japan.
They have been rebuilding since the last Olympics but were using this event as a marker to see how far they have come as they prepare to defend their title in Tokyo in 2020.
After finishing bottom of the group without a win, they managed to beat Japan 2-1 on finals day.
World champions Netherlands won the tournament, claiming a 5-1 victory over Australia in the final, while Argentina beat China 6-0 in the bronze-medal match.
The tournament will be replaced by the inaugural FIH Pro-League, which will take place across the globe between January and June in 2019.
Results
Finals day
Sunday, 25 November
5th/6th: Japan 1-2 Great Britain - Report
3rd/4th: China 0-6 Argentina
1st/2nd: Netherlands 5-1 Australia
Group games
Saturday, 17 November
Great Britain 2-2 China - Report
Australia 2-1 Argentina
Netherlands 3-1 Japan
Sunday, 18 November
Australia 2-0 Great Britain - Report
China 0-0 Japan
Netherlands 3-0 Argentina
Tuesday, 20 November
Australia 0-3 Netherlands
Argentina 0-2 China
Japan 2-2 Great Britain - Report
Thursday, 22 November
Argentina 4-0 Japan
China 0-0 Australia
Great Britain 0-4 Netherlands - Report
Saturday, 24 November
Japan 3-1 Australia
Netherlands 2-1 China
Great Britain 0-1 Argentina - Report
Table
| Team | P | W | D | L | F | A | GD | Pts |
| --- | --- | --- | --- | --- | --- | --- | --- | --- |
| Netherlands | 5 | 5 | 0 | 0 | 15 | 2 | 13 | 15 |
| Australia | 5 | 2 | 1 | 2 | 5 | 7 | -2 | 7 |
| China | 5 | 1 | 3 | 1 | 5 | 4 | 1 | 6 |
| Argentina | 5 | 2 | 0 | 3 | 6 | 7 | -1 | 6 |
| Japan | 5 | 1 | 2 | 2 | 6 | 10 | -4 | 5 |
| Great Britain | 5 | 0 | 2 | 3 | 4 | 11 | -7 | 2 |
Last updated 24 November at 13:10 GMT
NB Fixtures and start times are subject to change. The BBC is not responsible for any changes that may be made