Irish Hockey League: Pegasus and Banbridge top standings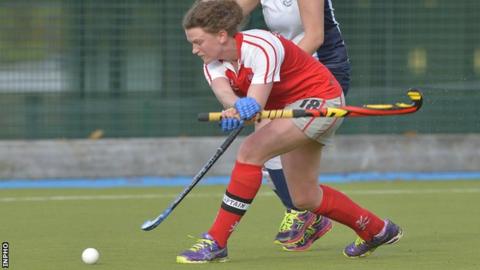 Pegasus and Banbridge sit top of the Irish Hockey League standings after recording victories on Saturday over Ards and YMCA respectively.
In the women's IHL there was a first defeat for Belfast Harlequins.
Lisnagarvey and Cookstown were both well beaten by Dublin sides Three Rock Rovers and Monkstown in the men's IHL.
Pegasus are the only side with a 100% record as they made it three wins out of three with a comfortable 4-0 Ulster derby win at Ards.
Alex Speers scored twice for the Belfast side with Steph Quinn and Kate Gourley adding the others.
Pegs moved three points clear after Loreto were beaten 2-0 by UCD with Abbie Russell scoring twice for the students.
After taking four points from a possible six to start the season, there were high hopes at Deramore that Belfast Harlequins could continue their good form at home to previously pointless Cork Harlequins.
However, led by an imperious performance from Irish International Cliodhna Sargent, who marshalled the Cork defence, the visitors stymied the Belfast attack and they took their chances with Olivia Roycroft, Michelle Barry and Zara Bowles scoring in a 3-0 win.
Elsewhere, Irish World Cup silver medallists Emily Beatty and Gillian Pinder scored the goals as Pembroke recorded their first win of the campaign, a 2-0 victory over Railway Union while Old Alex beat Muckross 5-1.
Banbridge moved clear at the top of the men's IHL with their third win in four matches after goals from Johnny McKee and David Rea were enough to beat Dublin YMCA 2-1 at Havelock Park. Glenanne are a point behind after a 6-2 win over Pembroke.
Lisnagarvey went down to a 4-1 defeat at Three Rock Rovers with the defending champions easing to victory thanks to goals from Luke Madeley, Conor Empey, Mitch Darling and Mark English.
Matthew Nelson scored a late consolation for Garvey while Monkstown beat Cookstown 6-1 with the help of a hat-trick from Davy Carson.
Results - Saturday 13 October
Women's Irish Hockey League
Ards 0-4 Pegasus
UCD 2-0 Loreto
Pembroke 2-0 Railway Union
Belfast Harlequins 0-3 Cork Harlequins
Muckross 1-5 Old Alex
Men's Irish Hockey League
Cork C of I v Annadale (postponed)
Banbridge 2-1 YMCA
Three Rock Rovers 4-1 Lisnagarvey
Glenanne 6-2 Pembroke
Monkstown 6-1 Cookstown