Men's World Cup: Harte beats the drum for Ireland in India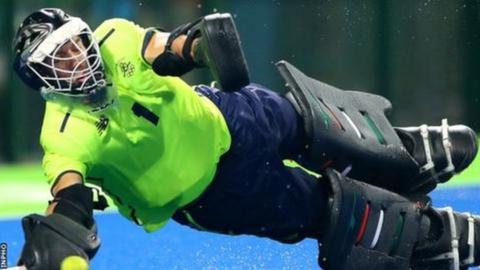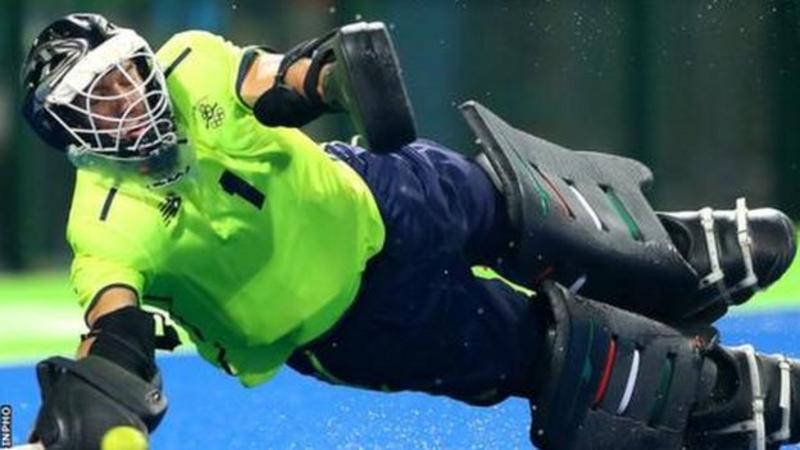 Over to you boys! The bar has been set high - very high, by the Irish women's team thanks to the stunning silver medal success in London three months ago.
Their enthralling Women's World Cup journey, from a team ranked 16th, is one of the fairytale stories of the sporting year.
The Irish public marvelled at the goalkeeping heroics of Alesya McFerran and the team's indomitable spirit - a homecoming in front of thousands of adoring, new-found fans followed along with the promise of increased funding for the sport.
Now it's the turn of the men, who enter the World Cup fray in India on Friday with the toughest of openers, in the form of world number one side Australia.
That's nine places above Ireland, who at least have the towering presence of David Harte as their skipper and formidable final barrier.
The 30-year-old goalkeeper believes the women's exploits will only help Ireland's challenge in Bhubaneswar.
"It's more inspirational than anything - there's absolutely no pressure on the men's team at the World Cup as you cannot compare the men's and women's competitions," said Harte.
"We can play freely knowing there isn't a tournament without an upset, so hopefully we can be that surprise package.
"I think anyone in the world of hockey and beyond was incredibly impressed by the Irish women's team winning a silver medal at the World Cup - you couldn't but be!
"They certainly had the rub of the green and made the very most of the draw they were given, which is something that doesn't always happen.
"It has certainly added to what the men's team has done to raise the profile of hockey in Ireland and long may that continue."
Harte's rise in the game has been rapid since he became "hooked" on life as a goalkeeper as a 13-year-old schoolboy in County Cork.
He lists determination, agility and intelligence as the key qualities required to make it to the top as the player donning hockey's version of a suit of armour.
Harte is a full-timer with top Dutch side Kampong while he also had spells in the Hockey India League and Malaysian Hockey League.
But it was outstanding displays for Ireland which earned him world goalkeeper of the year accolades in 2015 and 2016.
Harte, who lines up alongside his twin brother Conor for Ireland, made his international debut 12 years ago.
He has seen plenty of changes in that time, but feels there should be a few more.
"Hockey in Ireland has luckily been transformed since 2006," he added.
"A European bronze medal in 2015, a first of its kind in our history, combined with Olympic Qualification for the first time in more than 108 years and a place at the upcoming World Cup (first appearance since 1990), has shown our rise in hockey.
"Winning the individual honours makes me very proud and it's a humbling feeling, but honestly words wouldn't do it justice! I think once my hockey career has come and gone I will truly appreciate the scale of such awards.
"Right now, we are so busy as a side determined to continue our meteoric rise in world hockey, new goals are set annually both as a team and personally with no time to rest on our laurels.
2018 Men's World Cup - Pool B (Kalinga Stadium)
Ireland
v
Australia (30 Nov, 11:30 GMT)
Ireland
v
China (4 Dec, 13:30)
Ireland
v
England (7 Dec, 13:30)
"However, I would love to see the efforts and sacrifices, combined with the success achieved on the field by the teams, to be continually mirrored by support (funding) and professionalism from Hockey Ireland and the Irish government.
"Both the men's and women's sides are the only ones in the top 10 in world hockey without a full-time programme in place. Imagine the possibilities if there was one!"
There's a new face in charge of the men's team going into the World Cup, but it's a familiar one for Harte.
Kampong coach Alexander Cox, who helped guide Netherlands women to the Olympic title in 2012, replaced Craig Fulton in August.
Cox was in charge for a World Cup warm-up tournament in Valencia last month and it included two notable victories over England, who are Ireland's group opponents in India along with China and the Aussies.
"Aal brings a wealth of experience and hockey knowledge - his attention to detail is something that always impressed me as well as his ability to get the best out of his players," said Harte.
"He has a hard-working, fighter like mindset that is reflected in the teams that he coaches, which is why I believe he enjoys working with this Irish side so much.
"It was an ideal opportunity to face England - a practice tournament compared to the heat of battle in a World Cup is light years apart, but we will take confidence from our gritty performances.
"We have learned some things about them as a team but more importantly we have learned a lot more about ourselves!
"Ultimately, our aim is to get out of our group and get to the crossover matches, which lead to a quarter-final spot."
Ireland squad
Goalkeepers: David Harte (Kampong), David Fitzgerald (Monkstown).
Defenders: Jonathan Bell (Lisnagarvey), Paul Gleghorne (HTC Crefeld), Luke Madeley (Three Rock Rovers), Conor Harte (Racing Club), Stuart Loughrey (Reading), Matthew Bell (HTC Crefeld), Lee Cole (Oree).
Midfielders: Shane O'Donoghue (KHC Dragons), Michael Robson (HTC Crefeld), Kirk Shimmins (HC Rotterdam), Sean Murray (HC Rotterdam), Chris Cargo (H&W), Daragh Walsh (Three Rock Rovers).
Forwards: Matthew Nelson (Lisnagarvey), Mitch Darling (Three Rock Rovers), Eugene Magee (Banbridge), Alan Sothern (Gantoise Gent), Jeremy Duncan (Heracles).