Four Nations: Ireland thrashed by seven-goal Dutch
Last updated on .From the section Hockey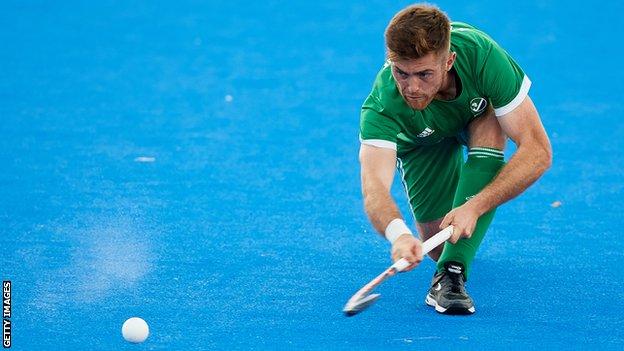 Ireland slumped to a heavy 7-1 defeat by the Netherlands at this week's Four Nations tournament in Spain.
Mink van der Weerden scored twice for the world number four-ranked Dutch.
Bob de Voogd, Thijs van Dam, Jereon Hertzberger, Thierry Brinkman and Robert Kemperman also scored in a dominant display.
In their first tournament under new head coach Alexander Cox, Ireland conceded five second-half goals before Alan Sothern got a late consolation.
The victory leaves the Netherlands in pole position to finish as the top seeds after the round robin matches, which will set-up a repeat match against Ireland in Saturday's play-offs.
England were beaten 2-1 by tournament hosts Spain in the final group match.
Two goals in the first quarter gave the Netherlands the perfect start in Valencia with de Voogd and van Dam both scoring before Ireland's Jeremy Duncan had a goal disallowed just before half time.
The Dutch surged further ahead at the start of the third quarter when van der Weerden got the first of his goals with a powerful drag flick before Hertzberger scored from a penalty corner.
An exciting final quarter produced four goals with van der Weerden getting his second from another penalty corner routine before Brinkman scored less than a minute later.
Robert Kemperman rounded out the scoring for the Dutch in the 51st minute but Ireland's persistence was eventually rewarded with Sothern's penalty corner strike in the 56th minute.
Ireland - ranked 10th in the world - started the tournament with a 2-1 win over England but lost 1-0 to Spain on Tuesday and the heavy defeat has left them as the fourth seed going into the weekend play-offs.