Dealmakers and breakers: A peek through the transfer window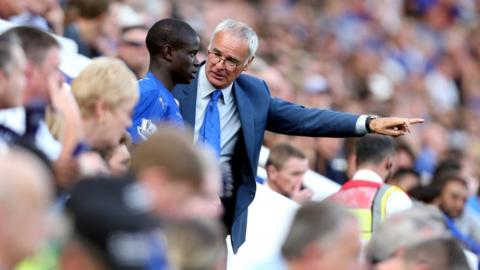 Player transfers tend to be shrouded in secrecy - an often murky world that football fans know little about. With the transfer window in full swing, we try, with the help of those involved, to unravel some of those mysteries.
Scouting
It's where the whole transfer process begins and can prove the difference between success and failure.
Consider Leicester City, for example, who built their Premier League title success on a foundation of top-class scouting.
Steve Walsh its head of recruitment and joint-assistant manager, successfully persuaded manager Claudio Ranieri to sign little-known Frenchman N'Golo Kante from Caen in August 2015, for less than £6m.
With Leicester having just sold the midfielder for a club-record fee more than five times that, it was probably the signing of the season.
According to Michael Calvin, author of The Nowhere Men, a book on the world of player recruitment, David Moyes, when manager of Everton, would request 50 lengthy reports on targeted players, compiled by between 10 and 12 scouts.
"Moyes has what he calls his 'MoT checklist', which is up to about 12 criteria for each position in an optimum situation," Calvin told The Footballers' Football Show in 2013. "He has around 5,000 reports on about 1,000 players."
Moyes' desire for total control on football matters mirrored that of Sir Alex Ferguson during his stellar career at Manchester United. Ferguson ran the club from top to bottom and decided which players came in and which could seek employment opportunities elsewhere.
But not all clubs are run the same way. At some, managers have much less influence, and the final decisions on players are often taken by the chairman or director of football.
Smoke signals
The Premier League close season is littered with transfer rumours, and in some cases there is indeed smoke where there's fire - conceivably lit by the player sending out signals to potentially interested parties, perhaps fuelled by desperation to get away.
"A player or his representatives, whether that be his lawyer or his family or his agent, will start to drop hints or start to let it be known that if the right move was available he'd certainly consider it," explains player agent Lou Sticca.
"Both parties, be it the club or the player, at some time or another put themselves out on the market, either subtly or more directly. But it's one or the other that drives it."
That sounds perilously close to a leak, but former Leeds United junior and licensed players' agent Ritchie Hinton says that's not necessarily the case.
"It depends on who you're trying to sell," he says. "Let's use Mario Balotelli as an example. Balotelli's on a multi-year deal at Liverpool and it's not working out. No one needs to tell anybody that's the case because of the wall-to-wall nature of the media coverage in that league.
"Does Balotelli's agent need to start leaking things in the press that his client might be open for a move? No. It's obvious."
He adds: "I'm not saying that it doesn't happen, because journalists call agents and an agent will have a conversation saying that things aren't working out and if something came up he'd look at it, and that becomes a story. Does that count as leaking?" However, if a buying club approaches a player at the wrong time, it is they who could get their fingers burnt.
Transfer rules stipulate that a player cannot be approached, or "tapped up", by a rival club unless he has entered the final six months of his contract or his current club have granted the suitor permission to negotiate for him.
That said, it's difficult to police. "You might get slapped on the wrist with a wet lettuce," Hinton adds. "And if [a club] did get fined it would be less than a week's wages they'd be prepared to pay for the player."
Sticca concurs. "Rule or no rule, if a club wants a player that's contracted, they'll make a big effort to get them."
Target identified, now what?
Once a club is alerted to the potential availability of a player, due diligence is undertaken behind the scenes to minimise the risks of what could be a significant investment.
However, in such a well-connected industry where everyone knows someone, clubs are generally relatively well informed about the players they're keen to sign.
"It's not like there's a lack of information out there," Hinton explains. "They obviously do incredibly detailed medicals, but things that are not so obvious, like gambling addictions, that kind of stuff is out there and people know that stuff." A club will then contact the player's agent to ask whether their target is happy at his current club, whether he would be interested in moving to them and, if so, what salary he might expect.
"The usual answer to that is everyone's got a number," says Hinton.
Once all the checks have been completed, a bid is tabled with the player's club while personal terms are thrashed out concurrently. The first offer is usually rejected, and in this game of football poker, the club usually get their man much further down the negotiating chain.
Terms, clauses and cameras
Once a fee has been agreed - which could be achieved quickly if a transfer fee release clause is triggered - probably 90% of the remaining negotiation is about the guaranteed base salary for the player. The rest is peripheral.
Contract clauses tend to protect the player, club or often both. The most obvious relate to release clauses, but there are some from left-field, such as the weight restriction clause Harry Redknapp reportedly advised Crystal Palace to impose on Neil Ruddock in 2000 to ensure he remained fit to play.
The final hurdle is the medical. Barring a discovery of an injury, illness or weakness that might jeopardise the player's performance, contracts are signed and filed - and then the promotion machine goes into overdrive.
Optus hold the broadcast rights to the English Premier League in Australia.