What a difference a manager makes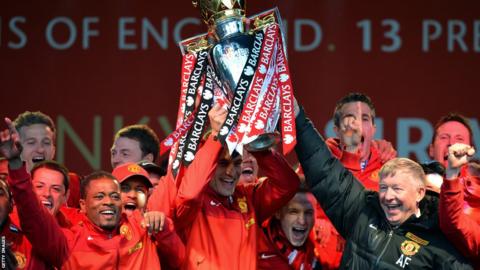 With the focus on the astronomical fees and media spotlight commanded by the players, the influence of a manager on a club's fortunes can be overlooked. From direction and philosophy to playing style and strategy, the effect of a manager can be felt across the entire club.
We look at some of those who have made the biggest impact on the Premier League years, and consider whether we can expect another managerial dynasty to emerge - or whether the rise of directors of football is a trend we can expect to see replicated across the Premier League.
There's always debate about the degree of impact a manager actually has on a football team.
In the age of the disposable manager, you might think it would be significant - indeed, that it has to be.
According to statistics released by the English League Managers' Association (LMA) in May this year, the 11 Premier League bosses who were sacked during the 2015-16 season had an average of two years, seven days in the posts.
Based on that statistic, one could draw the conclusion that clubs lack patience in the modern era and are quick to direct an underperforming manager to the nearest unemployment office in the seemingly endless pursuit of finding the "right man for the job".
That, in turn, would suggest that managers really do make a difference.
LMA chief executive Richard Bevan believes the profession would benefit from a dose of realism.
"The need for results, the strive for promotion and relegation, you just need the people running the clubs to take a step back to assess what actually is a successful season for them and to manage the expectation of the fans," he told BBC Radio 4's Today programme.
Sometimes, as was the case for Leicester City, the gamble pays off. The sacking of Nigel Pearson, who had done so much to keep the club in the Premier League during the 2014-15 season, paved the way for Claudio Ranieri to burst upon the scene and win the title at the first attempt.
However, for every Leicester City fairytale, there are countless instances of clubs chasing fool's gold and being left no better off. Manchester United, anyone?
The value of Fergie time
With the new pressures created by lucrative television money, a 24-hour news cycle and spiralling debt that needs to be serviced from the windfalls of success, patience is a virtue that clubs rarely display any more.
Two years, seven days is hardly enough time to build anything meaningful, certainly not a dynasty. Had the Manchester United board shown the same level of impatience towards Sir Alex Ferguson that it did with his replacements, David Moyes and Louis van Gaal, they would not have experienced what proved to be their most successful era - and the football world might never have known one of the greatest managers of all time.
Ferguson may have won 13 Premier League titles, five FA Cups, four League Cups, the Champions League twice, the Cup Winners' Cup, Uefa Super Cup, Intercontinental Cup and Fifa Club World Cup during his illustrious 27-year career at United, but his first league triumph did not arrive until his seventh season at the helm.
"You have to have some patience being a Manchester United fan and they have shown that over the years - in Matt Busby's time, in my time," the Premier League's most successful manager told Sky Sports in an interview.
"For 150 years of history, it is worth having a couple of years on the quiet side of success because they will always come back and come back strong."
Current Arsenal manager Arsene Wenger is another who has benefited from not being kept on a tight leash, winning 15 trophies in his 20 seasons so far with the Gunners, albeit with no Premier League titles since the last of his three in 2004.
Through his revolutionary approach to player management and development, Wenger not only changed a football club, but the face of English football for ever.
A new era
In the lead-up to the 2016-17 campaign, many clubs share the same optimism of a similar journey of success and managerial longevity.
Manchester City will hope their dogged pursuit of Pep Guardiola will culminate in an era of Premier League dominance, in much the same way that Barcelona and Bayern Munich dominated their respective leagues under his guidance.
Guardiola, perhaps in an attempt to ease expectations, conceded during his unveiling that he is "not good enough to change everything".
"To change the mentality of a club [that has been around] for 120 years would be presumptuous," he said. "I trust a lot in myself. I think I am able to do the job but I don't come here to think I can change the mentality or the culture of England.
"I need time," he added. "I know I don't have time."
Over on the red side of Manchester, Jose Mourinho is not a name that many associate with dynasties. The Portuguese tactician represents a quick route to title success - particularly, the statistics suggest, during his second season in charge. However, by the third, history shows that the House of Jose tends to come crashing down.
"Mourinho will also have to make his mark on 128 years of English football history to clinch a fourth Premier League title, given that the record books show only four managers - Tom Watson, Herbert Chapman, Brian Clough and Kenny Dalglish - have won the league with more than one club.
Tools to succeed
Rebuilding the remains of what he left at Stamford Bridge is the responsibility of former Juventus and Italy coach Antonio Conte.
In Conte, the notion that a manager can have a significant effect on the playing group rings true. One needs only look at his recent achievement at Euro 2016, where he guided what was dubbed the worst Italian team in 50 years to the quarter-finals based on a diet of tactical flexibility, meticulous preparation and a high-intensity work rate.
Former Chelsea goalkeeper Carlo Cudicini believes Conte possesses the tools to succeed.
"Conte is a coach with a winning mentality, who demands a lot from his players," he says. "He is a very passionate manager, very detailed in his preparation of his team. He is mechanical in the way he makes sure he knows everything about his team behind the scenes, and the opponents."
Whether that formula proves to be effective in England remains to be seen. In his autobiography, Andrea Pirlo, who played under Conte at Juventus for three seasons, noted: "He's not a guru, nor is he a magician, for all he's been known to pull some crazy speeches out of the hat. You either do what he says or you don't play. But he's plainly allergic to error."
Meddling or medalling?
Conte will be free to impose his philosophy on his new pupils, just as Liverpool's Jurgen Klopp will do with his Gegenpressing (immediate ball recovery high up the pitch) and Guardiola at City, with his focus on pace and spatial domination.
If they were to be shackled by a polarising director of football, who typically sets a club's playing philosophy, scouts the manager to execute that vision and makes the signings, it's doubtful these pioneering managers would be gracing world football's most exciting domestic stage.
"When you look at people like Mourinho, Ferguson, Conte and Guardiola, imagine coming over the top of these guys and telling them what the lay of the land is and who they should be signing," says players' agent Ritchie Hinton, a former junior with Leeds United.
"If you are going to go down that route, I really think that you have to get the right people in."
While the controversial role proved disastrous for Newcastle United in 2013-14, some clubs, such as Southampton, have benefited enormously from employing a director of football, finishing the 2015-16 campaign in sixth position and qualifying for the Europa League for a second successive season.
Former Manchester United captain Gary Neville, a one-time sceptic of the job, believes "95% of clubs will adopt the model that has been so successful for the Saints".
"The title director of football is a loaded one in English football," he wrote in a column for The Daily Telegraph in 2015. "It implies interference in first-team affairs - and someone above the manager buying the players - but Southampton have shown it can work, if everyone is aligned."
Imitation is a by-product of success, and just as some teams will attempt to replicate the defensive pragmatism and team spirit of Leicester City and Euro 2016 winners Portugal, the replication of Southampton's management structure - and therefore potentially the future of the director of football role - may depend on Saints' ability to capture the title.
Optus hold the broadcast rights to the English Premier League in Australia.