Epsom Derby: The Shergar story
Last updated on .From the section Horse Racing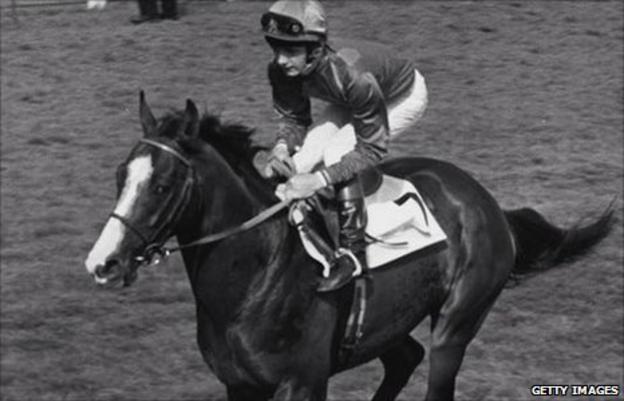 As the racing world gears up for a potentially historic Epsom Derby on Saturday, thoughts turn to one from 30 years ago and the record-breaking victory of Shergar.
The colt, trained by Sir Michael Stoute, won by 10 lengths with a breathtaking display of speed under 19-year-old rider Walter Swinburn.
His owner, the Aga Khan, had hoped the colt would go on to enhance his breeding operation with a distinguished career as a stallion
But early into his life at stud in Ireland, the horse was kidnapped in 1983 by masked gunmen and his whereabouts have remained a mystery, with the consensus being it was a bungled ransom plot by IRA terrorists.
To mark the anniversary of that famous 1981 win, his trainer, jockey and owner reflect on the horse in a documentary called The Shergar Story, which is being broadcast on BBC Radio 5 live from 2100 BST on Wednesday.
The Aga Khan reveals he did not contemplate deserting his Irish breeding operation despite the trauma of losing his beloved horse.
"Ireland was a very, very unhappy country at the time," he tells former jump jockey Mick Fitzgerald.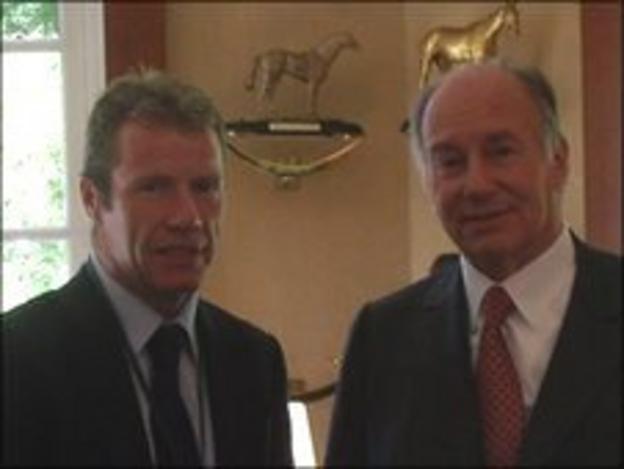 "I don't think you can hold the people of a country responsible for criminal behaviour. It is ethically wrong. In addition to which, Ireland had a great tradition of breeding great thoroughbreds.
"My grandfather was there, my father was there, I'm there and I hope my children will be there."
The Aga Khan, who has since won the big race another three times with Shahrastani (1986), Kahyasi (1986) and Sinndar (2000) and runs Vadamar on Saturday, has watched the video of Shergar leaving his rivals trailing countless times.
"It's a memory that can never, never go away," he says.
"I've seen that film I don't know, tens or hundreds of times. I keep trying to analyse where this remarkable performance came from. Every time I see the film, I feel that I have learned something.
"If you're in racing, the Epsom Derby is one of the greats. It always has been, so to win a race of that quality in itself is an extraordinary privilege. To win it the way he won it was more than that.
"I had watched quite enough races to be able to determine what the jockey was feeling, how the horse was going at the time and when he came around Tattenham Corner, I couldn't believe my eyes, frankly.
"His victory up to this point in time was unique. Two things I found stunning - one was the ease with which that horse moved and second was the fact that during the finishing straight he just kept going away, going away, going away. That was really remarkable."
Stoute has gone on to win the Derby a total of five times, including the 2010 running with Workforce.
He also saddles Saturday's ante-post favourite Carlton House, who will bid to give the Queen her first victory in the race, but his sadness at Shergar's demise remains.
"He had this great balance, rhythm and tremendous engine. He could turn it on from a long way out and sustain it," says Newmarket trainer Stoute.
"It was just such a tragedy because I can tell you he was the kindest horse you could have anything to do with. He had a superb temperament.
"It was tragic because they hadn't done their homework really and had committed a heinous crime and that was the end of a magnificent racehorse who had made a promising start at stud."
Swinburn, nicknamed the 'Choirboy' as a young rider for his baby-faced looks, was just a teenager when he rode Shergar to Classic glory and said "the power of youth" left him with few nerves.
"You could ride him any way. There was no right way or wrong way to ride him and he just had no weaknesses," said Swinburn, who is now a trainer.
"He was the best I rode by a country mile. Most horses have strengths and weaknesses. In his case there were none.
"He had the ability to gallop horses into the ground from the start and he took horses out of their comfort zone very early in a race. He had a low economical action, spent very little time in the air and wasted very little energy.
"People still ask me about Shergar. They remember him for all sorts of reasons. Sadly, for the final ending, but they still remember him winning a Derby like that and it always makes me smile that they remember him, and haven't got a clue who I am."
Shergar's kidnapping meant he never had a chance to leave a lasting legacy as a leading stallion.
"He wasn't at stud long enough to mark my breeding operation or anyone else's for that matter but the bloodline he came from is still very, very strong in my operation," said the Aga Khan.
He remembers a "kind, calm" horse and there is sadness that a gentle champion should meet a violent end.
Swinburn says: "We were all shocked at the way it happened.
"It was wrong to happen to a horse like him, not only a brilliant racehorse but he was a nice person. He lived out in the paddock at Ballymanny and anyone could go up to him. He was sort of like a pet there.
"He wasn't your typical stallion - difficult to deal with. I suppose that was part of his downfall. Anyone could go in there, put a bridle on him and lead him out."