Royal Ascot: Frankel jockey Tom Queally on racing's new star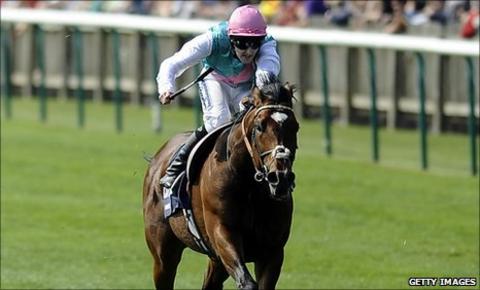 Racing has a rich history of so-called talking horses. The sport is continually looking for the next big thing, often with ill-founded hype followed by disappointment.
This year has been different as one talking horse - Frankel - has done his talking on the track.
Winning the first Classic of the season by six lengths was proof enough that this colt was special, but the way he had the 2,000 Guineas at Newmarket sewn up by halfway marked it out as exceptional.
Frankel was effectively eased along in the last half of that mile-long saunter to victory in May but still completed the rout in 97.3 seconds.
For those who marvel at sprinter Usain Bolt's 100m world record of 9.58 seconds, consider that Frankel was an average of more than three seconds quicker over that distance. And he did it over 16 times the trip. And he wasn't even at full stretch.
The unbeaten three-year-old son of 2001 Epsom Derby winner Galileo returns to action on Tuesday as the star attraction in the St James's Palace Stakes, the feature race on Royal Ascot's opening day.
As the course marks its 300th year, there can have been few appearances so keenly awaited.
Victory would ensure a rousing reception not just for the horse, but for his revered trainer Sir Henry Cecil, who only acquired the 'Sir' bit on Saturday when knighted in the Queen's Birthday Honours list.
While Cecil has racked up a record 72 victories at the famous meeting, there is the whispered possibility Frankel might be the best animal the four-time Derby winner has trained.
Jockey Tom Queally knew from his debut at Newmarket in August 2009, which was the first of six straight wins, that he was riding a horse with huge potential.
"We wanted to keep him covered up and relaxed as it was the springboard of his career and we ended up just toying with the others, playing with them," he recalls. "He didn't know he'd been on the racecourse."
It is this seeming ease which has struck observers. Frankel's Guineas victory on paper looks impressive. In the flesh, it was mesmerising.
"It was a freakish performance. When I looked at the replay, the hairs stood up on the back of my neck," added the 26-year-old Irish jockey.
"It was just a privilege to be part of it. I've spoken to men who are three times my age and they had never seen anything like it."
Queally's explanation of how he first teamed up with Cecil appears to revolve around a few chance conversations on the Newmarket gallops.
It would be no surprise if the famously self-effacing Cecil was quite taken by the modesty of the rider, who shrugs off his position near the top of flat racing's riding hierarchy.
"I wouldn't say I was riding better than someone with half the winners I've had. It's all about perception," said the man who hails from Dungarvan in County Waterford.
"Someone will have a winner at Royal Ascot and people will say they are flying.
"You wouldn't believe how much it's got to do with who's in fashion, but I'm riding well. These good horses give you confidence and it's lovely to have a powerful stable behind me."
The jockey does not lack ambition, he is just a realist who believes the riding of horses is "not rocket science".
Frankel is something of a rocket and Queally said while he can be very keen, and needs to be settled, he is a pleasure to be associated with.
"He's an absolute gentleman. If he was a person, he would be a nice person," said Queally.
Queally boasts a nice book of rides this week, including the Cecil-trained World Domination, who briefly enjoyed Derby favouritism before flopping in last month's Dante Stakes trial at York.
"He wasn't going to be ready in time for the Derby so we thought we would give him a little more time," said Queally of World Domination, who runs in the King Edward VII Stakes on Friday.
"I think he's a very nice horse in the making, and it looks like we might see the best of him next year. Hopefully, he will stay in training next season. I think he goes to the King Edward with a huge shout if he puts his best foot forward."
On Wednesday in the Prince of Wales's Stakes, Queally rides dual Champion Stakes winner Twice Over, who faces the exciting So You Think, previously based in Australia and now with Irish trainer Aidan O'Brien.
"Twice Over has gone close in the Prince of Wales's [finishing second, third and fourth before] and was a little bit unlucky last year," he said.
"He's been very consistent at that level, although obviously we have the former Australian-trained horse to beat but hopefully he will give him a run for his money."
However, it is Frankel, the horse bred and trained in England, named after late American trainer Bobby Frankel and owned by Saudi prince Khalid Abdulla, who captures the imagination.
Frankel sidestepped the Derby as Cecil was unconvinced an extra half a mile at the undulating Epsom track would suit him at this stage of his career, although Queally hinted further distances could be tried in the future.
"I think he has the capacity to stay [further] but how far, time will tell. His talent will get him through a lot," he said.
The powerful manner of Frankel's victory at Newmarket have raised murmurings about the mark it may have left on him, with some keen to suggest Ascot rivals such as Wootton Bassett, Excelebration and Grand Prix Boss could prove dangers.
"The critics are out there. Some people say he had a hard face and galloped too fast," said Queally.
"However hard it was, his ears were pricked and he was delighted with himself. He jogged back in like he was on air."
Queally and Cecil will be walking on air, too, if Frankel can assert his authority again at Ascot on Tuesday.