Sussex Stakes can lift spirits at Goodwood

By Cornelius Lysaght
BBC horse racing correspondent
Last updated on .From the section Horse Racing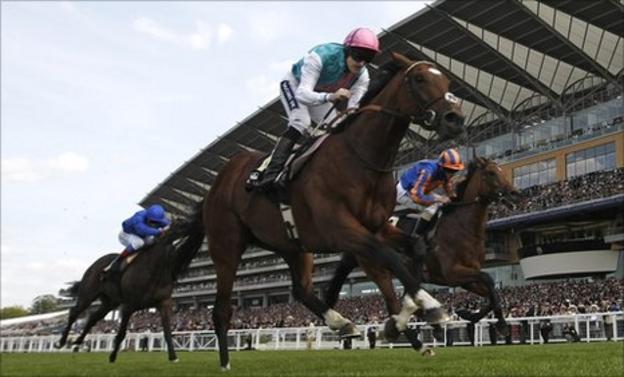 Horse racing has been shocked by the tragic demise of Rewilding when breaking a front leg near the finish of what was billed as the Flat's high-summer highlight, the King George VI and Queen Elizabeth Stakes.
Instead of taking away images of a truly great win by Nathaniel, all witnesses were left with memories of jockey Frankie Dettori being hurled to the ground, Rewilding running loose, clearly mortally injured, and screens eventually being erected around the horse to hide the vets' inevitable work.
Unquestionably, it was a freak accident that could have happened any time, but that made it no less easy to digest.
But high on the picturesque West Sussex Downs, Goodwood's day two feature, the Group One Sussex Stakes, is the race to lift the spirits.
This year, as racing's marketing department shows its mettle, Wednesday's race has become the 'Duel on the Downs' between two of the outstanding horses of their type: Canford Cliffs and Frankel.
Canford Cliffs, aged four, trained by Richard Hannon and the mount of Richard Hughes, won in 2010 and was conqueror of the outstanding Goldikova in the Queen Anne Stakes at Royal Ascot in June.
A year younger, Frankel, representing trainer Sir Henry Cecil and jockey Tom Queally, is unbeaten in all of his seven starts, including a monster-like, all-the-way win in the 2000 Guineas, but, most recently, he only squeaked home in Ascot's St James' Palace Stakes.
Despite that, he is the narrow favourite to win from Canford Cliffs, with Zoffany, the St James' Palace runner-up - beaten by only three quarters of a length - a distant third in the betting.
Supporters of Frankel believe he is exceptional and holds freakish abilities, and they will not even consider defeat for the colt, owned by Prince Khalid Abdullah.
Those behind Canford Cliffs prefer his experience and easy temperament, and believe that in Hughes they have just the right man for a race in which tactics are likely to play a big part.
In contrast, although unbeaten together, Frankel's rider Queally has his critics, and however much he has insisted that he feels no pressure, he would have to be superhuman for that to be completely accurate.
Queally has said his mount is "far more versatile than people think", in other words that his positioning in the race can be varied more than it has been.
The jockey added that we must "remember he's never been eyeballed", and who knows what will happen if or when that takes place?
Canford Cliffs, meanwhile, racing in the silks of a group of owners including the Irish-based Coolmore racing empire, is a real pro who likes nothing better than to be held up before pouncing late.
It should be just the sort of classic encounter that puts what looks like a vintage Flat racing season back on track after the discomfort of the sad events at the King George.
The Sussex Stakes is live on BBC Radio 5 live on Wednesday, 27 July at 1510 BST