Frankel is Sir Henry Cecil's favourite

By Cornelius Lysaght
BBC horse racing correspondent
Last updated on .From the section Horse Racing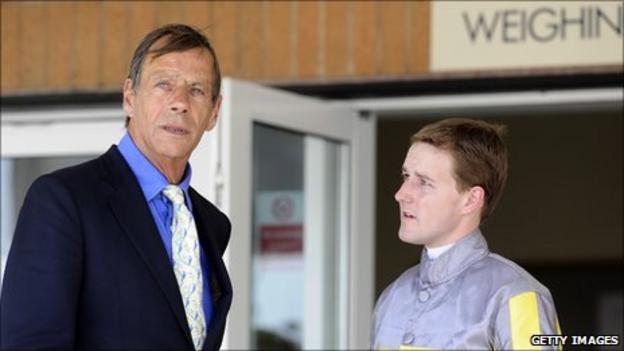 Tall and shy, Sir Henry Cecil, Frankel's trainer, usually prefers to let his horses' actions out on the track do the talking.
Not for Sir Henry, sport's newest knight, grand pronouncements or extravagant gestures; a quieter, more considered approach is his trademark.
Indeed, generally, hyperbole is more likely to be the name of some blue-blooded member of Cecil's magnificent Warren Place Stables at Newmarket, than the description of anything he has to say.
Until, that is, Frankel reduced the so-called Duel on the Downs in the QIPCO Sussex Stakes at Glorious Goodwood into something of a lap of honour.
"He's definitely the best horse I've ever seen in my lifetime," declared the 10-time champion trainer, 68.
Monumental words coming from somebody like Cecil, who previously rated Shergar and the 1970s French-trained champion miler Blushing Groom as the best in the racing world.
Frankel's jockey Tom Queally described the performance in beating Canford Cliffs by five lengths as "flawless", and indeed it was.
On that Wednesday afternoon, high up on the west Sussex downs, no horse could have beaten Frankel, and that is now eight wins in eight starts.
His all-the-way 2,000 Guineas success was nothing short of monstrous, and it is hard to think of any of the many terrific Guineas winners that would have been able to land a blow.
The tactics employed in the St James's Palace Stakes at Royal Ascot didn't help the colt, owned by Prince Khalid Abdullah, to show his best, but still he was successful, albeit narrowly.
The Sussex Stakes, however, was something else.
Forced to lead from the word go, it would be inaccurate to say that Frankel and Tom Queally breezed through it without the slightest fuss.
Canford Cliffs is the outstanding winner of five Group One races, including the 2010 Sussex Stakes, yet his challenge was simply tossed aside, and in the end, as he wandered left, perhaps it broke his heart.
That is what the very best horses do, and that is what those close to potential rivals won't want.
Sir Henry's plan is to have one more race this year - in the Queen Elizabeth II Stakes on the new British Champions Day in October - and then for Frankel to stay in training as a four-year-old in 2012.
His biggest problem now may be finding someone to take him on, and that is a sign of a true champion.