Dettori's Darley delight on York's Ebor ladies day
Last updated on .From the section Horse Racing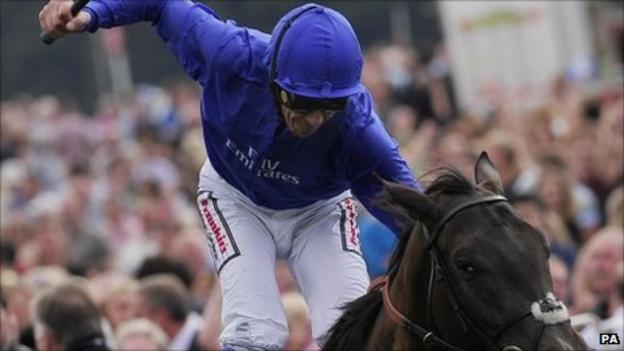 Jockey Frankie Dettori rode Blue Bunting to victory for trainer Mahmood Al Zarooni in the Darley Yorkshire Oaks on ladies day at York's Ebor Festival.
Tom Queally coaxed a strong challenge from Vita Nova, but Sir Henry Cecil's filly had to settle for second place.
Thirsk trainer Kevin Ryan took the valuable opening race, the DBS Premier Yearling Stakes, with Bogart.
"He didn't handle Goodwood at all but our jockey Phillip Makin always had a lot of faith in him," said Ryan.
Makin was grateful for the win after leading on Racy for most of the previous day's opening race, only to lose out in the last few strides.
"We just got nabbed in the first yesterday, we were quite unlucky," said Makin, "so we were hoping it wasn't going to be the same again and get done close out, but he's a lovely horse. You'll be hearing a lot more of him."
History did repeat itself later when Malton jockey Paul Hanagan rode the winner in the final race for the second day running.
Dazinski came home for trainer Mark Tompkins, despite a strong challenge from Malton-trained Chilly Filly.
"I'm leaving it late," said Hanagan, who had two second places earlier in the card. "But it's been a great day really. They've all ran well."
Having been narrowly crowned champion jockey last year, Hanagan is still on course to defend it, and is enjoying the experience.
"I'm very lucky," he said. "There are a lot of lads in that weighing room that would love to be in the position I am in, so you've got to enjoy and appreciate it.
"This is what it's all about. This is our Royal Ascot, it's 20 minutes down the road from Malton so I really enjoy it."