Two jockeys banned on first day of new whip rules

By Cornelius Lysaght
BBC horse racing correspondent
Last updated on .From the section Horse Racing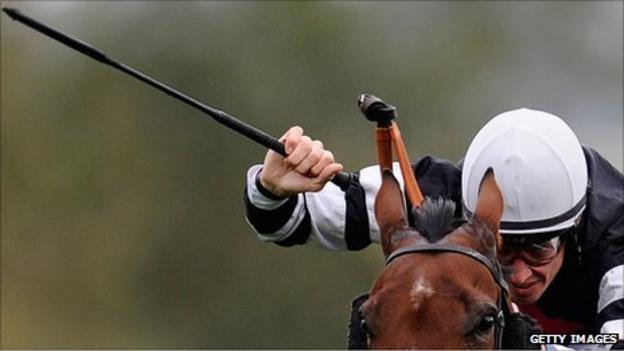 Top jockey Richard Hughes and apprentice Kieren Fox are the first to fall foul of racing's strict new rules on jockeys' use of their whips.
Hughes received a five-day ban and Fox 15 days for overuse of the whip at Salibury on Monday. Both also lose their riding fees and prize money.
Riders are allowed a maximum eight strokes of the whip in jumps races and seven on the flat.
"I just feel a bit hard done by," Hughes explained.
The stewards adjudged Fox to have administered 11 strokes while Hughes used his whip six times in the final furlong, with the maximum allowed in that period being five.
Hughes added: "It [the sixth stroke] was only a corrective measure, and if I had let him bump the other runner I'd have got two days. I stated that, but they said six was six."
Both riders were also fined their riding fee and percentage of the prize money.
The controversial new regulations were brought in by the British Horseracing Authority (BHA) following a long-running review into jockeys and their whips.
There has been a sharp reduction in the number of 'hits' allowed, and penalties are right up and fines have been introduced.
Senior jockey Michael Hills, speaking at Windsor, said: "Everyone is doing their best, and we want it to work, but I promise you the count is very hard when you get competitive in the last furlong.
"It's alright when you bolt in, but when you get two lined up, and you know it's all out, it's hard to clock how many you've used."
Jockeys already use air-cushioned whips to minimise the impact on horses, but an extensive review of their use began last November.
When announced in late September, the new rules appeared to be broadly welcomed by jockeys including Tony McCoy and Frankie Dettori.
But many riders are opposed to the automatic forfeiture of their riding fee and percentage of any winnings when incurring a whip ban of three days or more.
Had the rule been in place for this year's Grand National at Aintree, it would have cost winning jockey Jason Maguire - who was suspended for five days for using his whip with "excessive frequency" on Ballabriggs - about £40,000.
The minimum punishment for overusing a whip will be increased from a steward's caution to a five-day ban, with increasingly harsh measures for repeat offenders.
Professional Jockeys' Association chief executive Kevin Darley wants to discuss the issue with the BHA.
"I'm submitting a paper to the BHA to request that we sit down and have a meeting and go through a proper consultation process in regard to these financial penalties because the jockeys are dead against them," he told the Racing Post.
"Some jockeys were quite strong on upping the penalty, or fining them, but not both and not as severely as they [the BHA] have done.
"All the jockeys involved agreed higher penalties would be the best deterrent - they were really up to speed with all the contentious issues surrounding the whip and its use - and it's just the financial element. We seem to have been railroaded really."
Jamie Stier, the BHA's director of raceday operations and regulation, said: "We're confident the riders will be able to comply with the new whip rules and hopefully there will be a smooth transition."