Frankie Dettori excited by British Champions Day at Ascot
Last updated on .From the section Horse Racing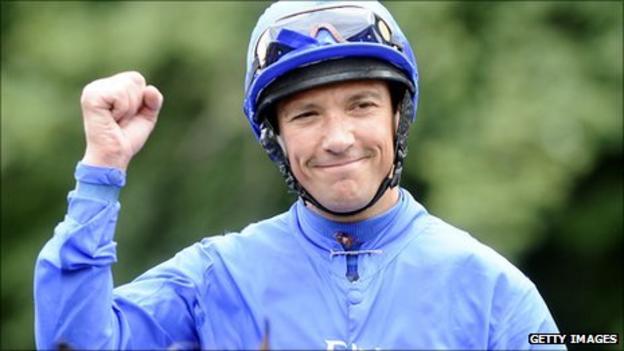 Frankie Dettori says he is "excited" by Saturday's inaugural British Champions Day at Ascot and has urged the public not to miss the action.
The Italian revealed he will race in all five championship races and says the Queen Elizabeth II Stakes which features Frankel will be the highlight.
Dettori also said he is most looking forward to riding Opinion Poll in the British Champions Long Distance Cup.
"It goes without saying I am excited," Dettori told BBC Radio Berkshire.
The meeting, which will be attended by The Queen, has attracted the top horses, trainers and jockeys from across the world for a unique day of racing.
And Dettori believes the appearance of Sussex Stakes winner Frankel is something that should not be missed.
"I think the general public should come along because we have a fantastic horse racing this year called Frankel," said Dettori.
"This horse is unbeaten and tears up from the front and kills his opposition. He is one of the all-time greats without question."
Dettori is revered at Ascot because of his legendary performance in 1996 which saw him win seven races on the same day and resulted in a statue being built in his honour at the course.
And he cannot wait for Saturday's action.
Dettori added: "We are going to have all the best horses in Europe racing on the same day whereas in the past a lot of horses went to America, Japan and France. Now we have them all racing on the same day in the same place.
"No-one is more excited than me because I am going to ride all five races and to ride the best equine horses on the same day is fantastic."
Despite his success, Dettori says his desire for victory is as strong as ever and he his determined to add yet more winners on Saturday.
"The most important thing is that I really love horse racing and it is nice to be associated with a beautiful animal and it shows in my face," he said.