Ascot's Champions Day threatens Breeders' Cup's pulling power

By Cornelius Lysaght
BBC horse racing correspondent
Last updated on .From the section Horse Racing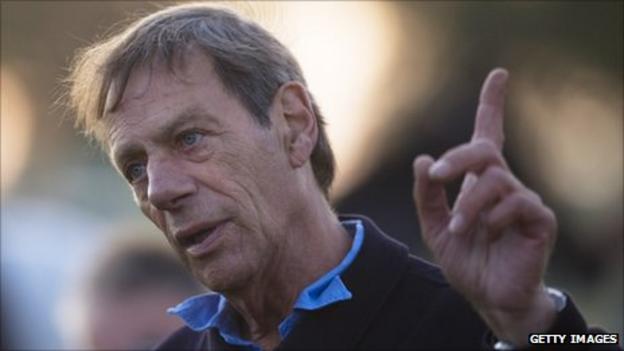 What started as a means of providing a comprehensive and valuable, happy ending to the 'narrative' of the Flat racing season has taken even more magnificent shape than anyone imagined.
So much so that Britain's richest raceday is being paid the ultimate compliment of being feared as competition by the Breeders' Cup in terms of attracting the world's best runners.
Although this year's three weeks between Ascot and the BC fixture in Kentucky is considered sufficient to allow horses to appear at both, 2012's provisional fortnight gap is understood to be causing jitters.
Sir Henry Cecil, trainer of Frankel, Midday and Twice Over, the equine stars of British Champions Day, sums up the potential situation in his own inimitable way.
"The thing about the Breeders Cup," he said, "is that you have to travel all that way to America and go through all the quarantine and hassle and eat hamburgers.
"With this you can go just down the road to Ascot.
"The best turf racehorses in the world are in Europe and will be standing over here [as stallions] so it's right we should have this really, really good championship day at this time of the year."
Some traditionalists remain sceptical about the £3m fixture - though their number is dwindling - but most owners and trainers have joined Cecil in being notably supportive.
Any controversy is rooted in horse racing's oldest foe: change.
Not only has the whole Champions Day concept been moved 100 miles to Ascot from Newmarket, but the five feature prizes, the culmination of a series of the season's big races, have all had to up sticks as well.
The big sprint, worth £250,000, and the £1m Queen Elizabeth II Stakes, Frankel's target, have come from a long-established position at Ascot in late September.
The £200,000 Long Distance Cup, the Fillies and Mares race, with a purse of £250,000, and the £1.3m Champion Stakes, whose line-up includes Midday and Twice Over, have all been moved from their historic homes at Newmarket.
But the fact is that the Ascot 'brand', with its Royal connection [the Queen is attending], as well as easier road and rail access, made it a more sensible place to stage such a significant event.
Undoubtedly, it'll take time for the new-look programme to bed into a regular slot in racing diaries, and the team behind it anticipates a crowd of 25,000 this year, rising to 40,000 for 2016.
"Obviously there was resistance," said Rod Street, chief executive of British Champions Series Limited. "And it's always hard to persuade people about issues that are notional and philosophical.
"But as the day has taken shape, and since our commercial sponsor QIPCO came in as the enabling factor, the support has steadily grown.
"The 25,000 people will be something like double the old total, and we have a stellar line-up of horses, so I'm expecting a stunningly successful raceday of which everyone can be proud."
Ok, they have certainly been lucky with the presence of the increasingly great Frankel, and with the likely clement weather, but there is a distinct feeling of something special here.
And whatever the cynics claim, this has to be acknowledged as a very welcome initiative to raise the profile of a sport that really needs any boosts that are going.
Tinkering changes will unquestionably follow - some powerful voices would like to see Champions Day in September - but wouldn't it be odd if there weren't?
And, on top of the 25,000 expected at Ascot, millions more will be able to follow events as pictures are beamed around the world to 75 countries; it is perhaps little wonder that the Americans are anxious.